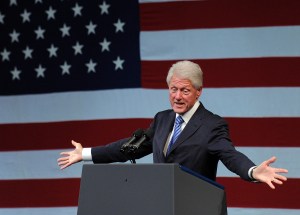 Sean Patrick Maloney, who served as an adviser to President Bill Clinton between 1997 and 2000, just got his former boss's backing for his congressional campaign. Mr. Maloney is running for the Democratic nomination to take on GOP Rep. Nan Hayworth in November, and the public support from a popular Democrat like Mr. Clinton is a nice thing to have in his back pocket.
"I support Sean because I know he'll be an outstanding member of Congress," Mr. Clinton said in a statement. "Sean worked closely with me in the White House to create jobs, grow our economy and balance the budget. It's time to bring a common sense approach back to Congress, and Sean Patrick Maloney is the right Democrat to help restore the economy and get people back to work in the Hudson Valley."
The backing comes as Mr. Maloney is racking up various significant endorsements, especially labor. Last Friday he was endorsed by both the AFL-CIO and the NYSUT, two of the state's largest unions.
Mr. Maloney doesn't have a clear shot to take on Ms. Hayworth, however. First he'll need to vanquish a set of opponents, notably Dr. Rich Becker, in the June 26th Democratic primary.