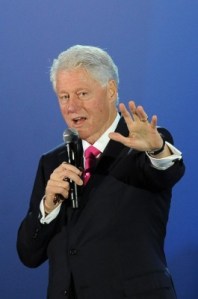 PATERSON, NJ — At a re-election rally for Congressman Bill Pascrell this afternoon, Bill Clinton blamed the current media landscape for controversy over comments he made on Piers Morgan Tonight yesterday defending Mitt Romney's business background. In his appearance on the show, Mr. Clinton called Mr. Romney's work with Bain Capital, which has been the subject of several attacks from the Obama campaign, "a good business career." Mr. Clinton said his statements were inaccurately reported "as if I had virtually endorsed him."
"I just want to say one thing before we get into the meat of the coconut here," Mr. Clinton said. "One of the real problems that we have in modern politics today is that, instead of the news being reported, everyone is looking to create a story."
Mr. Clinton went on to say this media environment leads to statements being "distorted." He cited his comments about Mr. Romney's business record as an example.
"I said, you know, Governor Romney had a good career in business and he was a governor, so he crosses the qualification threshold for him being president. But he shouldn't be elected, because he is wrong on the economy and all these other issues," Mr. Clinton said. "So today, because I didn't attack him personally and bash him, I wake up to read all these stories taking it out of context as if I had virtually endorsed him, which means the tea party has already won their first great victory: 'We are supposed to hate each to disagree.' That is wrong."
Mr. Romney certainly appreciated Mr. Clinton's comments on Bain. According to Politico, Mr. Romney expressed his happiness with Mr. Clinton's comments earlier today.
"I think Bain Capital has a good and solid record. I was happy to see President Clinton made a similar statement … and called my record superb," said Mr. Romney.