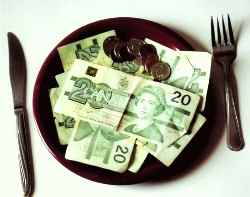 Roberta's of Bushwick, Brooklyn, has traditionally been the only restaurant that could ever inspire Manhattanites to take a safari out to the young, hip, and tres chic post-apocalyptic, post-Williamsburg neighborhood.
It is a restaurant that does not take reservations for most parties, which on a busy night, will lead to a wait of anywhere from half an hour to 90 minutes (if you arrive in the middle of a dinner rush). Compared to the other restaurants in the neighborhood, it is slightly pricey.
It has a radio station, and their own garden (with its own blog), and they make their own honey, too. It is also fairly well-regarded, and was undoubtedly instrumental in putting the neighborhood on the map for many people who'd otherwise never venture past the Bedford Stop.
Today, erstwhile New York Times food critic Sam Sifton took a break from his gig as the paper's national editor to report on the existence of Blanca.
Blanca is a restaurant that sits behind Roberta's.
Blanca is a restaurant with twelve seats.
Blanca is a restaurant in Bushwick with a $180 per person entry fee. 
Dinner at Blanca costs $180 a person, excluding wine.
Blanca is a restaurant with a 22-course menu. At $180 per person, that comes out to around $8.10 a course, which doesn't sound too crippling. Even with tax and tip estimates, it only comes out to about $10.63 per course. And the people who own it are no doubt savvy, and have been working towards this moment for a while, that when they could charge $180 per person and expect people to venture out and pay it, enabled by an investment and bet on the neighborhood made long ago, or moreover, a bet that quality would trump the tension of opening a very serious restaurant in a neighborhood otherwise barren of options like it and with residents whose willingness to pay for it was as unproven as the willingness of Manhattanites who would travel to taste it.
No doubt, the development of Roberta's and the birth of Blanca have ushered in a new era of Bushwick. We have no idea what it means. Or how Bushwick's denizens will react to it, short of beginning to anticipate the next palpable, less-expensive place to live. All of which is to say:
Ridgewood, be prepared. The food looks pretty great.
fkamer@observer.com | @weareyourfek