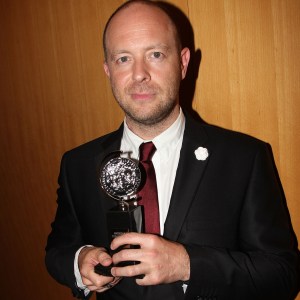 "I'm always pleasantly surprised when anybody wants to see a production that I've directed," said John Tiffany over the phone from Glasgow two days after the Tony Awards, erasing all traces of false modesty with child-like wonder. "I kinda go, 'Oh, wow!' I feel humbled and privileged that people are actually interested. I've a strong philosophical belief that works should be accessible and popular—there shouldn't be obstacles to anybody being able to connect with what you do—but I wouldn't say I have a mainstream commercial gene in my body at all. All I know how to do is tell the stories in the most accessible way possible."
That, apparently, is enough: His Once was Tony king at the recent ceremonies, raking in eight awards in all—among them those for Best Musical and Best Director.
Music has always been a key component in Mr. Tiffany's theatrical pieces, but never before had he attempted a musical per se—let alone one that could be considered "a Broadway musical" and would compete as such and actually win, leaving whole chorus lines of energetic evangelists and high-flying newsboys-on-strike in the dust.
Once has none of the gaudy trappings of traditional Broadway musicals. If anything, it wears its source like a flag—a quiet cult film of 2007 where Guy (a Dublin busker) and Girl (a Czech immigrant) meet, make beautiful music together but not, bitter-sweetly, a lasting relationship. Notable among the songs is "Falling Slowly," a ballad of soaring urgency that won the Academy Award. The rest of the score, written by the two leads (Glen Hansard and Marketa Irglova), is a haunting, surging dirge to the finish line. No glitz. No buck-and-wing. No 11 o'clock number.
Mr. Tiffany hadn't seen the film when he was first approached about doing its stage facsimile. "I was with a friend back in Glasgow, who said, 'You will love the music,' so the first thing I did was download the album. Loved it. Then, I watched the film."
One scene in particular triggered a childhood flashback and prompted him to do the project: "Glen takes Marketa to a party where everyone's sitting around doing a song, and that reminded me of when my dad used to play in a brass band back in Yorkshire," he said in the press room at the Tonys. "He would take me along on some very drunken evenings with his bandmates and everyone would do their song. There's something about the way working-class men can communicate through music in a way they can't in words.
"I thought, 'Wow! I wonder if we could get that going in the play.' That's when I came up with the idea of having a bar on stage—the actors singing as the audience arrives, then the audience going on stage and being able to get a drink from the bar. That was my first thought, and that's what happened. It took quite a lot of pushing to get that on Broadway—'Audience on stage? What?' 'Liquor on stage? What?'—but we got that. It was an open bar on the first night at New York Theatre Workshop, and Alan Cumming asked me, 'Is it not a free bar every night?' I said, 'Alan, you just think every bar's a free bar. It's like the Queen thinks everywhere it smells of fresh paint.'"
He told The Observer over the phone, "We were amazed 1) that the show transferred to Broadway in the first place, and 2) that we were nominated for 11 Tonys. I keep saying to the cast and company and creative team, 'We're so lucky in that we've made the show we've wanted to make.' We couldn't be prouder of it and the way it connected with its audience. Then, to get this kind of recognition and acknowledgement for doing our job is just fantastic."
Mr. Tiffany's voice broke a bit as he pressed on. "The best thing about it is that it made my mum and dad really proud. My dad's a kind of quiet Yorkshire man. He doesn't give away compliments too readily. I spoke to him the morning after the Tonys, and he said he's never been prouder in his life, and that meant a helluvah lot to me."