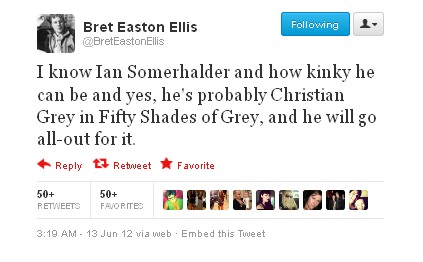 Bret Easton Ellis' Twitter feed is like his books: they might be gimmicky, and bizarre, and sometimes in bad taste…but they are never uninteresting.
Last time we checked in, the author of American Psycho was talking about a coked-up threesome he almost had with Rielle Hunter and someone else in the 80s. (It might have been Molly Ringwald or Jay McInerney!)
But on Monday night, Mr. Ellis went in a totally different direction, pushing his Kickstarter-backed film The Canyons with some scintillating casting.



That's right: Porn star James Deen and recent car-crash "victim" Lindsay Lohan in the new L.A. noir film. If that is stunt casting, we don't know what is. (Oh yeah, putting the Olsen twins in The Informers.)
But that's not all! Mr. Ellis has been binging on another Twitter-saga this week, igniting a firestorm of rumors that he would be directing the 50 Shades of Grey film and hinting at his dream casting for that adaptation.
On Monday he wrote: "Completely committed to adapting Fifty Shades of Grey. This is not a joke. Christian Grey and Ana: potentially great cinematic characters."
This was followed by: "Okay, today the team has been briefed and we will be approaching the studio this week about BEE adapting 'Fifty Shades of Grey' into a film."
Then a long debate over Ian Somerhalder in the role of Christian Grey…

We have to say, between his love for Alex Pettyfer and Kristin Stewart, we're wondering if a 15-year-old girl has taken over Mr. Ellis' Twitter feed. Then again, his preferred choice for Ana–according to Vanity Fair–was Lena Dunham, which raises just a whole new set of possibilities.
Of course, no one is handing over an adaptation of 50 Shades to Mr. Ellis quite yet, so this is purely speculative hype.