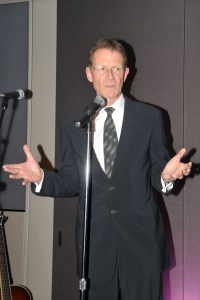 In this week's issue of The New Yorker, Calvin Tomkins gives Nicholas Serota, the Tate Gallery's director for the past 24 years, the profile treatment, on the occasion of Tate Modern's plans to open a new exhibition space next month. Early on, Mr. Tomkins delivers a grand quotation from Larry Gagosian that pretty much sums up the arc of his subject's career: "Nick ­really­ caught ­the ­wave….He ­saw­ the ­possibilities, ­the ­wealth ­coming ­in, ­and ­he ­kind ­of­ harnessed­ that." (Which sounds a bit like Mr. Gagosian himself.)
Although, Mr. Serota studied Italian Renaissance painting at Cambridge and wrote his graduate thesis on Turner, his genius was in embracing contemporary art in the 1960s and '70s, as most others in Great Britain scorned it. (Recall the violent reaction that met the Tate's decision in 1976 to show a brick piece by Carl Andre, Mr. Tomkins's last profile subject.)
Mr. Serota is by all accounts hardworking (sometimes to his family's detriment: "a loving­ father ­to ­both­ the ­girls, ­but ­a­ rather ­long-distance ­one," his first wife reports), humble (he prefers the Underground to taxis, even when Damien Hirst provides the latter, as he did when he wanted Mr. Serota to see his "Freeze" exhibition in 1988) and a master politicker (he's ably negotiated with five different prime ministers, and Mr. Tomkins can't find anyone to say anything too negative about him).
There are not really any major revelations, but here are a two tidbits: Mr. Serota got the Tate directorship over Norman Rosenthal and John Elderfield (the former MoMA curator who now works for Gagosian), and he turned down a chance to meet with MoMA's trustees in 1994 about the director's seat there.
Mr. Serota is an artist-centric director and curator, Mr. Tomkins emphasizes, and lines up a nice line from painter Peter Doig to make the point. Mr. Doig saw a show of Philip Guston's late work in the early 1980s at the Whitechapel Gallery, where Mr. Serota then served as director. Mr. Doig recalls:
No one in my generation knew that work… and all of a sudden here was this older artist doing great, great painting. It was like catching a bad rash—we called it the Guston rash. Seemed funny at the time, but that was the power of those exhibitions.
Oh, and there's a nice photograph of Mr. Serota by Thomas Struth.