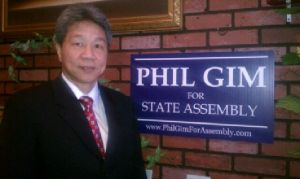 Earlier this week, Ethel Chen registered a campaign committee to run for Assemblywoman Grace Meng's seat. Like Ms. Meng, Ms. Chen is a Democrat, and even though there remains some doubt as to whether Ms. Meng might be running for reelection or as the Democratic nominee for an open congressional seat, Ms. Chen is one of several candidates plowing forward with their campaigns.
This week, Democrat Ron Kim and Republican Phil Gim also declared their campaigns, setting up a primaries in a field that may already be set to include Democrats Isaac Sasson and John Scandalios, as well as Republican Sunny Hahn.
It looks like Mr. Kim and Mr. Gim are the favored candidates of their respective county organizations, however.
"The last few election cycles have shown that the voters of Queens want results from their elected officials, and that they will vote for the best candidate regardless of party affiliation," Phil Ragusa, the chairman of the Queens County Republican Party, said in a statement. "Phil Gim will get results, so I have no doubt that Phil Gim will get their support."
"I have come to know Ron as a dedicated public servant and tireless advocate for his community. From a young age, Ron was eager to become directly involved in the diverse community he has been a part of his since the age of 7," Mr. Ragusa's Democratic counterpart, Congressman Joe Crowley, said on behalf of Mr. Kim yesterday. "Ron's experience navigating various and complicated regulations on behalf of small businesses will be invaluable as our communities struggle through a difficult economy. Ron will work hard to create jobs and get Queens back to work."