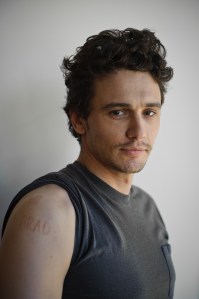 On Saturday afternoon, James Franco stood on stage in the New Museum's basement theater holding a switchblade. "I just wanted to do something that said, 'We remember you, Brad,'" Mr. Franco told the packed house. The switchblade's handle read, "Brad Renfro," in candy-colored letters, and the blade bore the word "forever."
This was Mr. Franco's limited-edition Brad Renfro Forever Switchblade, a tribute to his old friend, the actor Brad Renfro, who died in 2008. The event was a hybrid product-launch and memorial hosted by the New Museum, The Thing Quarterly and Artspace that also served as a screening of Mr. Franco's short new documentary, Brad Renfro Forever. Press materials promised a "creative performance by Mr. Franco, artist Laurel Nakadate and psychic Gemma Deller." Mr. Franco, it would seem, is inexhaustible.
Onstage, he admitted he had been devastated when he lost the lead role in the 2002 film Deuces Wild to Renfro. Like many young actors, he imagined it would be his Mean Streets. He scored a bit part, and the movie ended up being "this total piece of shit." As he said that, he held out the switchblade as though he were about to stab someone. "There's something so sad about that."
Why the switchblade? It's a reference to the rough-and-tumble of Deuces Wild, Mr. Franco explained on stage, but it also carries metaphorical weight: "Remembering Brad needed something this strong because in my mind, he was so violently forgotten."
The film features two narratives—one a brutal skin-carving scene. Mr. Franco gets "B-R-A-D" carved into his arm by legendary tattoo artist Mark Mahoney, a David Lynchian character with a silver bouffant, ghostly blue eyes and a black leather jacket, who negotiates with his subject about the carving's design and depth—really deep, or "girl-cutter" deep?
In a scene set in Renfro's final dwelling place, as Mr. Mahoney carves Mr. Franco's upper arm, the latter alternately winces, grits his teeth and smiles. Throughout, the film cuts to video interviews with Renfro's friends about his life and death. One says that the actor battled drug addiction and may have committed suicide by injecting himself with bleach.
"As an actor you feel like, I give a lot, give a lot, give a lot," Mr. Franco said to Ms. Nakadate during a Q&A session after the screening. "There's a new trend and people are forgotten. I don't know if my project is to make a difference in that, but I think just the effort in working against that is something. The effort is enough."
Gemma Deller, alas, never appeared. "Some of our projects have involved mediums," Mr. Franco told Gallerist. (They've previously channeled playwright Tennessee Williams and New Orleans photographer E. J. Bellocq.) "We thought maybe we'd include that here, but on second thought realized it was not appropriate for this." The next day, he said, they planned to channel the spirit of Henry Miller—"at an undisclosed location."
As for that on-screen carving, it was real. And it left a scar. "It's still there," Mr. Franco said. "It's pretty light. I thought it would last longer."
"You did the girl-cutter version?" Ms. Nakadate chided.
"No!" he protested. "I didn't tell him to hold back at all."
"There was this joy on your face while it was happening," Ms. Nakadate observed. "Like happy tears at that moment he was cutting into you."
rjovanovic@observer.com