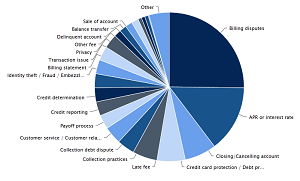 The Consumer Financial Protection Bureau went live with the beta version of a database of consumer complaints, which for the moment seems more cool than useful.
But pretty cool: As of today, you can splice and dice complaints logged by the CFPB from June 1 on—and thereby determine the 20 percent of cases involving Bank of America-issued cards were resolved with some form of monetary relief, or that Capital One accounts for more than a quarter of complaints over billing disputes.
Be forewarned: The data set is very small—only 137 complaints are showing up as filed so far. For the moment, the data includes credit card complaints only, though the agency says it hopes to add other financial products at a later date. It also plans to add historical data when the "beta" tag is removed later this summer, and may add a "narrative" field to provide deeper insight into the nature of complaints.
"By making our data publicly available, initially in the area of credit cards, we hope to improve the transparency and efficiency of this essential consumer market," said CFPB director Richard Cordray in a statement.
Bloomberg, by the way, used a public records request to obtain the CFPB's complaints data from July 21 through Dec. 31 of last year, and found that Bank of America, JPMorgan and Citigroup were the subject of the most complaints, in rough proportion to the size of each issuer's share of the credit card market.
The banking industry, as you might suppose, is not crazy about the database. As Bloomberg notes, Consumer Banking Association general counsel Steven Zeisel wrote in a Jan. 30 comment letter that "the inclusion of identifying information on institutions in a public database will likely only serve to provide one-sided, unsubstantiated views of consumer complaints."
Which, for us anyway, makes the data that much more fun to play with.