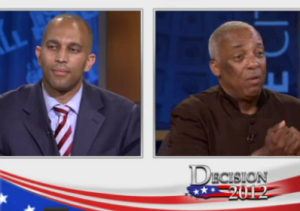 Councilman Charles Barron and Assemblyman Hakeem Jeffries, both candidates for an open congressional seat in Brooklyn, don't really like each other very much. At least, that's the most obvious impression from a debate between the two Democrats on Inside City Hall last night.
It started off with Mr. Barron calling Mr. Jeffries "negative and immature" and a "sore loser" over his dismissal of  retiring Congressman Ed Towns' endorsement.
"You're just a sore loser," Mr. Barron continued. "You can't have all of the endorsements. You can't get them all, man!"
But it was over foreign policy issues that the two had the most contentious interaction. Mr. Barron, of course, has a long history of bombastic declarations in support of African dictators and against Israel.
"I certainly can't compete with Charles Barron for the pro-Gaddafi vote," Mr. Jeffries mused on the topic before switching over to Mr. Barron's criticism of President Barack Obama. "Charles Barron has been willing to go after the President of the United States in such a reckless, vicious and disrespectful fashion. In the context of Muammar Gaddafi, my opponent called … President Obama essentially a murderer."
"That's a lie," Mr. Barron interjected.
"It's irresponsible rhetoric to have called the President of the United States essentially a tool of the white establishment," Mr. Jeffries added. "It's irresponsible to say the president is essentially an Uncle Tom who has got an 'F' grade as it relates doing business on behalf of black folks."
"This is his immature way of trying to use Obama to give himself credibility," Mr. Barron retorted. "We reserve the right to be constructively critical of the president. He's trying to use that because his campaign is desperate now, they're falling behind."
When it came for the opportunity for the two to ask each other questions, Mr. Barron offered a very simple inquiry.
"Why should we trust you?" he asked, alleging Mr. Jeffries has gone through a series of flip flops on a wide range of issues.
"What's the sources, Charles?" Mr. Jeffries responded. "I mean is it the 'Charles Barron Encyclopedia on Conspiracy Theories?'"