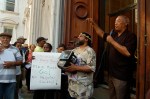 Earlier today Jewish elected officials and community leaders like former Mayor Ed Koch, Congressman Jerry Nadler and Assemblyman Dov Hikind gathered in lower Manhattan to denounce Brooklyn congressional candidate Charles Barron as  an "anti-Semite" who is "anti-Israel" and "a scary monster."
Asked this afternoon for a response, Mr. Barron, a City Councilman and one-time Black Panther, didn't take the bait, calling the presser a distraction designed to blunt the momentum of his campaign.
"Most of them don't live in the district or don't represent the district.  The few who may represent a part of it never called me up to discuss anything with me. This is a distraction becaue my campaign is gaining momentum. My campaign is looking better and better each day with the endorsement of DC37, with Congressman Towns, with the Amsterdam News, and the fact of the matter is that when I travel all throughout the district," he said, "And nobody—and I went before the Jewish press and the Russian -Jewish press and Russian Jewish leaders–and no one has raised those kind of issues."
Mr. Barron added that in his district, most people are speaking with him and bread-and-butter issues, and issues around social justice like providing more money to day care and senior centers and "ending the wars abroad."
"These are the kinds of issues that the people of my district are raising. These gentlemen are not speaking on behalf of the majority of the people in our district. And I will not let them distract me with their attempt to halt the forward progress of my campaign."
Asked to respond to the specific allegation that he was an anti-Semite, Mr. Barron demurred.
"I don't care what they said. I am not responding to them, is my answer to you. I am speaking to the people in my district and they don't call me that.  They raise questions about the quality-of-life issues. They are trying to distract me and have me respond to Dov Hikind and Ed Koch and Jerry Nadler. They don't even live in the district, know the district or represent the district," he said.
Asked if whether or not a candidate was in fact anti-Israel was relevant to a campaign, Mr. Barron again refused to answer, and accused Mr. Nadler, Mr. Koch and Mr. Hikind of doing something he was often accused of–generating a phony controversy to weaken a political opponent.
"I am not responding to those folks. I am responding to the people in my district,  no matter how many different ways you try to ask the question or get a rise out of me to get some good copy,  it is not going to happen. The people in my district will determine what the serious issues are– not you, not Koch, not Dov Hikind, not Jerry Nadler. When I met with the Russian-Jewish press no one asked me any of those questions," he said. "And  I believe that  because I am doing well in some of those interviews and with that community, and they didn't expect to me to do well, they are coming out with these extreme things."
Mr. Barron said that people in his district were concerned about life-and-death issues like poverty and cuts to health care. Asked if Israel was a life-or-death issue, Mr. Barron responded, "I am not even answering that question. I am telling you I am not responding to anything Koch says or Dov Hikind says. "
The councilman added that if they were interested in a real discussion of foreign policy they would have called him.
"Let's have an intelligent discussion, not this foolishness for the press."