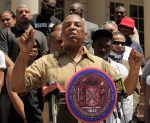 Charles Barron has a message: Do Not Be Afraid.
The three-term City Council member and now candidate for Congress stood outside of a senior citizen center in Starrett City on Friday and waited for two people who seemed to symbolize a dramatic change in fortune for him.
One was a reporter for The New York Times, who the next day wrote a front-page local section story that described Mr. Barron as "surging" in his campaign against Hakeem Jeffries, and the other was Ed Towns, a 30-year incumbent who shocked the political world when he abruptly announced his retirement, and then, even more abruptly, announced that he was backing Mr. Barron to replace him.
Mr. Towns' move was shocking because the entire political establishment, including every union and every elected official in town, had thrown their support to Mr. Jeffries, a former
attorney at Paul, Weiss who has been hailed as the leader of the next generation of political stars.
It was also shocking because of Mr. Barron's long history of being shocking.
He once described Moammar Khadafy as his personal hero. He invited Zimbabwean dictator Robert Mugabe to City Hall. He has described Israel as a terrorist state. His supporters heckled Andrew Cuomo when he met with Harlem leaders during his gubernatorial campaign. And he once said he'd like to "slap white people for my mental health" at a rally on reparations for slavery.
But, in Mr. Barron's telling, he has been asked about these matters enough.
"Those are soundbites," he said. "I am not turning this campaign into soundbite-response, soundbite-response … We are going to force you to have an intelligent conversation no matter how much you want to hype it so that you can create controversy, sell papers or try to help my opponent."
Again and again, no matter how many ways reporters asked, Mr. Barron didn't disavow the long litany of provocative statements and actions, but brushed off questions about them.
"I don't have to talk about that with you and I am not going to. I am not. I am not. I have a policy on Africa. If you are interested in that I will be happy to talk about it with you. But if you are looking for some hot-button stuff, I don't have to give it to you."
(That policy is that "historically Europe and other countries of the world have exploited Africa so much that the people of Africa are suffering." He favors more government aid and land reparations like those that occurred in Zimbabwe. As for Israel, it "clearly exists as a state." He calls for a negotiated Palestinian state and denounces the killing of innocent civilians. "Not a statement. Deal with that.")
Recurring reminders of his past aside, the combination of Mr. Towns's endorsement, the recent backing of DC37—the city's mammoth public employee union—and the endorsement of the Amsterdam News has made Democrats locally and across the country nervous that Mr. Barron may actually be for real, despite having raised only 10 percent of the money Mr. Jeffries has raised.
"He would be a big problem," said one member of the New York congressional delegation. "You can't erase your past. His association with extremists and fundamentalists and his comments on Mugabe and Khadafy—you can't walk away from that."
Continued the lawmaker, "Hakeem is going to win the race. Everyone feels that. But to have him even performing at this level is a little unnerving."
"There is a degree of panic out there," added another operative close to Mr. Jeffries. "People are truly concerned."
Over the last several days, there have been emergency press conferences by Jewish lawmakers warning of the prospect of a Congressman Barron embarrassing New York City; a protest of Russian émigrés who compared him to Dr. Evil of the Austin Powers films; a slew of negative articles dredging up his old comments. President Barack Obama has gotten in on the act too, inviting Mr. Jeffries to a fundraiser at the Waldorf and having his picture taken alongside him.
"Democrats. Are. Worried?" Mr. Barron said, slowly enunciating every word of a question put to him. "How many Democrats are worried? Who are you talking about? They don't even know what to be worried about. How can you be worried about somebody when you have never spoken to him?"