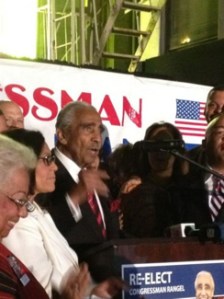 The race between veteran Congressman Charlie Rangel and State Senator Adriano Espaillat for the 13th Congressional District in Upper Manhattan will come down to paper ballots. Mr. Rangel was initially declared the winner by the Associated Press based on initial results provided by the New York City Board of Elections, but it was subsequently revealed those results did not include votes from many of the precincts in the district. After a re-examination of the votes, the BOE released unofficial results tonight including votes cast in all of the district's 506 precincts that show Mr. Rangel defeating Mr. Espaillat by a margin of just 802 votes. According to the BOE, Mr. Rangel received 18,075 votes, or 44.29 percent of the total cast, compared to Mr. Espaillat's 17,273, 42.33 percent of the votes cast.
These unofficial results do not include paper ballots cast by absentee voters and affidavit ballots submitted by those whose name is not on the voter rolls when they arrive at the polling place. Those paper ballots, which include votes for both candidates, will be counted by the BOE next Thursday and will be the deciding factor in this tight race.
On Thursday, Mr. Espaillat's supporters held a press conference in front of Mr. Rangel's office where they called for a federal monitor to oversee the counting of votes after the issues with the initial results. Some of the supporters also made allegations of voter suppression and voter fraud at the polls on election day. Attorneys for Mr. Espaillat claim they were unable to monitor the recount and sought an injunction against the BOE to be allowed to observe the ongoing vote count. That hearing is scheduled to take place in State Supreme Court Monday.
Mr. Espaillat's spokesman, Ibrahim Khan, released a statement about the unofficial results in which he promised the campaign will continue their push for "transparency" in the vote counting process.
"Four days after polls closed, we finally have a preliminary vote count, excluding thousands of paper ballots. With each new tally, Senator Espaillat's vote total increases," Mr. Khan said. "As paper ballots begin to be counted and this dead-heat race continues, we are grateful to all of our supporters and will continue to push for full transparency in counting every single vote."
According to BOE spokeswoman Valerie Vazquez, there are 2,110 paper ballots cast in the race so far. To make up the make up the difference between him and Mr. Rangel, Mr. Espaillat will need to earn about 69 percent of these votes when the paper ballots are counted next week. Though more absentee ballots may still come in and his supporters have claimed most of the paper ballots were cast in neighborhoods favorable to Mr. Espaillat, if these numbers are correct, it seems unlikely Mr. Espaillat would be able to earn enough of a majority of the paper ballots to take the win away from Mr. Rangel. Either way, considering Mr. Rangel has gone over forty years without losing his seat, Mr. Espaillat's performance in this race was certainly impressive.
View the unofficial results below, which also include the other candidates in the race, Clyde Williams, Joyce Johnson and Craig Schley.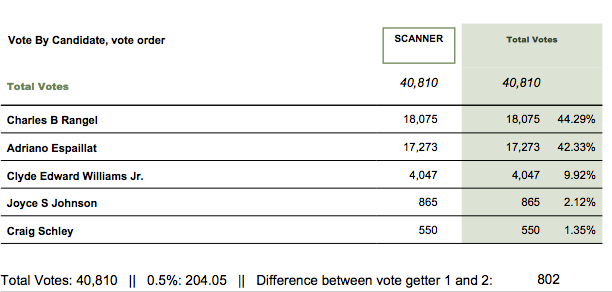 (Updated 10:19 p.m. with the current paper ballot totals from the BOE.)