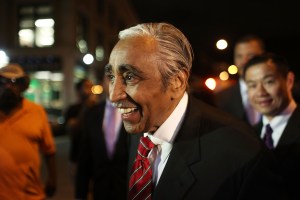 Though the victory and concession speeches have already been made, votes are still being counted in the Upper Manhattan race between longtime Congressman Charlie Rangel and State Senator Adriano Espaillat and it may have been a far closer contest than it was originally thought to be. In the wee hours this morning, the City Board of Elections released unofficial totals based on 100 percent returns, but this afternoon, the Associated Press published a report that said results from 33 of the 506 precincts in the 13th congressional district race still have yet to be counted. Those returns are in addition to the paper affidavit ballots that are not usually included in uncertified, unofficial election night totals.
Mr. Rangel's campaign issued a statement saying they were still "confident" in his victory in spire of the outstanding returns.
"We are going through the process like we do after every election in order to ensure each vote is counted," said Ronnie Sykes, a campaign spokeswoman for Mr. Rangel. "We are confident that at the conclusion of this process we will be victorious."
This afternoon, the Board of Elections told The Politicker that the unofficial results showed Mr. Rangel beating Mr. Espaillat with 16,252 voters or 45.7 percent to Mr. Espaillat's 13,921 votes, 39.1 percent of the total with 100 precincts reported. That result, which was given to both campaigns by the Board of Elections gave Mr. Rangel a 6.6 percent margin that was more than enough of a cushion to weather any changes caused by the outstanding affidavit ballots.
The Associated Press report had Mr. Rangel's actual margin of victory at a much smaller 2.8 percent and the returns from the 33 precincts outstanding along with the affidavit ballots. As of this writing, the Board of Elections has not responded to our requests for an explanation of the discrepancy between the results reported by the AP and the totals the board gave to us and the campaigns. However, sources with knowledge of the situation said the Board communicated to the campaigns this evening and confirmed the AP report.
Mr. Espaillat also issued a statement saying he was "proud" of the "strong show of support" indicated by the incredibly close race between him and Mr. Rangel, who has been in Congress for over forty years.
"I am incredibly proud of our campaign," Mr. Espaillat said. "Our message of bringing bold, new ideas to change Congress connected with voters,  as demonstrated by our strong show of support and the voting results that continue to come in."