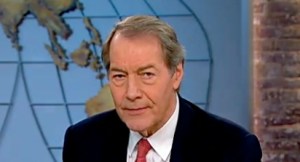 This morning on CBS's Early Show, Charlie Rose led a spirited interview with Amit Sood, founder of the Google Art Project, which essentially works like Google Books for art, displaying "30,000 works of art from over 150 collections in 40 countries."
Though Mr. Rose's co-host Gayle King offered some fine back-up commentary ("I'm thinking your mom must be very proud"), Mr. Rose took charge in the discussion.
"So if I want to go online and see the Mona Lisa at the Louvre, I can go to Google Art?" Mr. Rose says in the video at the link above, aghast.
"Well you can't," Mr. Sood says, pointing out that that is not a great example, "because we don't have the Louvre."
"You can curate your own exhibition!" Mr. Rose remarks later, having been told that users may start their own digital collections.
"I try not to use the word 'curate,'" Mr. Sood says, "because it gets me into trouble with museums."