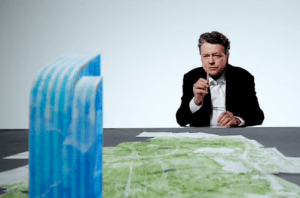 We already know One57, like all of Gary Barnett's projects, is the best everything all the time.
This goes for its marketing materials, too. Get a load of this insane video, for example, just posted to the development's sleekly updated and expandedsite. Herein some clever video editors make Christian de Portzamparc's tower come alive, which we guess is the kind of industrial light and magic one can afford when a project is on pace to gross $2 billion.
In the video, the Pritzker Prize-winning Frenchman reveals that tall buildings in Manhattan give him "pleasure." He rhapsodizes in his adorable accent about the changing perceptions of the tower from every angle. "This is not an abstract thing like an office tower," Mr, de Portzamparc says. "This is dwellings."
To that end, "every dwelling has its own glass, its  own color. And this creates a Klimt effect, which indicates that you have different glasses for the window reflecting differently the sky."
Maybe Ron Lauder should buy an apartment.
"This is changing the skyline of Manhattan," he concludes, looking like Godzilla about to smash his creation, "changing the landscape. This contribution here is one gesture, which will be important."
The real gesture is the video, which if we have not made it clear by now, you really must go watch.