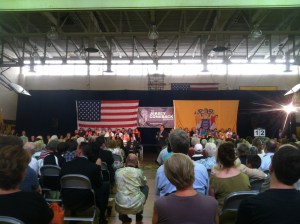 CEDAR GROVE – Gov. Chris Christie took aim at Democrats in the Legislature today who have been hinting at tying tax cuts to the governor's revenue projections.
The governor told a Cedar Grove town hall crowd that he's concerned that "we've seen an ugly type of Democrat" return to Trenton, saying "this type of Democrat has returned to the state Legislature."
The governor said the "Corzine Democrat" has "their hands in your pocket," telling the crowd that some Democrats in the Legislature are saying that there is not enough money right now to cut taxes.
"Here we are, 12 days away from the end of session," Christie said. "They're going to tell you we're going to put money in the budget for a tax cut, and we promise you we're going to give it to you in January."
The governor was taking shots at Democrats who have hinted recently that any tax cuts in the budget would be tied to whether the state's revenue picks up like the governor's office has projected.
"They say, 'trust us, we'll give you that tax cut, but not now,'" he said.