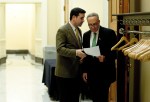 Ending the suspense, U.S. Sen Chuck Schumer threw his weight behind Assemblyman Hakeem Jeffries today in his congressional race against Charles Barron.
"I know the streets of this district like the back of my hand from when I represented many of its neighborhoods, and I know that Hakeem Jeffries is the man who will get the job done for all the people in Brooklyn and Queens," said Senator Schumer. "Assemblymember Hakeem Jeffries is the perfect combination of smart, hard-working and caring — and, from creating jobs to protecting affordable housing to educating our kids to delivering services for our seniors, he has a record of accomplishment to prove it. He is a true blue friend of Israel and has a sophisticated sense of America's unique role in a complex, interconnected world.  He is full of energy and promise and talent, and I am proud to endorse him to be the next congressman from the 8th district."
Mr. Schumer's support of Mr. Jeffries isn't all that surprising since every member of the congressional delegation save Rep. Ed Towns–who Mr. Jeffries and Mr. Barron are vying to replace–has backed him. However, working over the last few days on a profile of Mr. Barron, it has becomes apparent how even those who find his past statements odious have a mental block when it comes to making an endorsement in a Democratic primary for an open seat.
The Jeffries campaign is touting this endorsement, noting that "Senator Schumer's endorsement is especially significant. While in the House of Representatives, Sen. Schumer represented Howard Beach, Sheepshead Bay and Mill Basin, which are part of the new NY-8 that was drawn this April. Also prior to his service in Washington, Sen. Schumer, a Park Slope resident, represented an assembly district that abuts Hakeem's current assembly district. "
All of that is true, but Mr. Jeffries has received so much establishment support in this race that it would be hard to move the needle much further. At this point, the endorsements he may need the most are those from more established Black leaders than those from established Democratic ones.