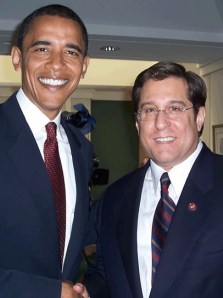 Former president Bill Clinton and President Barack Obama are taking opposite sides in a heated New Jersey congressional race between two incumbent Democratic congressmen–Steve Rothman and Bill Pascrell. President Clinton is traveling to Paterson tonight to appear at a rally for Mr. Pascrell and, this morning, President Obama invited Mr. Rothman to a private meeting in the Oval Office where he expressed support for his campaign.
"President Obama asked me to come to the Oval Office today so that everyone will know that he supports me and wants me to help him with his agenda in his second term, as I have in his first," Mr. Rothman said in a statement. "I sincerely appreciate President Obama's support at this crucial time. It means the world to me to have him take the time out to speak with me this morning."

Paul Swibinski a senior advisor to the Rothman campaign discussed the meeting with The Politicker.
"President Obama told him he supports him and he wants to see him win," Mr. Swibinski said. "He appreciated his past support in 2008."
Senior Obama advisor David Axelrod has also endorsed Mr. Rothman, who was the only congressman from New Jersey to endorse President Obama for the Democratic nomination in 2008. Mr. Pascrell gave his support to Hillary Clinton in that race.
Mr. Rothman and Mr. Pascrell formerly enjoyed a friendly relationship, but the redistricting process thrust them together. Their race has been marked by a high number of negative ads.
(Updated with quotes from Mr. Rothman's statement 12:11 p.m.)