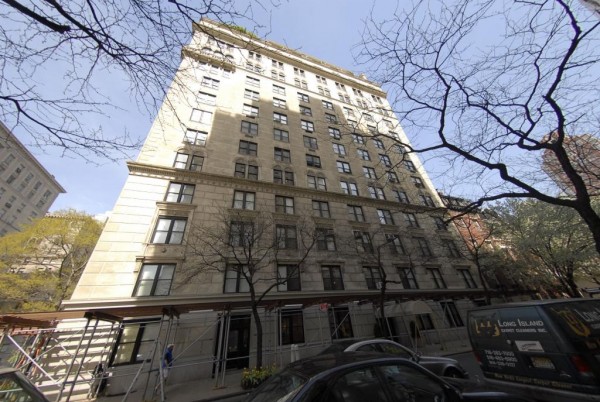 After spending nearly a year on the market, someone has finally put the key in the ignition of the 9th-floor co-op at 625 Park Avenue that belonged to the late Hess Corporation founder Leon Hess and wife Norma Wilentz Hess.
The four-bedroom co-op made its debut in 2010, asking $20 million at a time when $20 million was apparently still too much to ask (although 2011 was a pretty good year for some other pads in the building). Fortunately, you could scarcely pick a better time to sell a pricey Park Avenue pad these days, with the market for high-end properties exploding as the rest of the global economy implodes. To wit, Marjorie Gershwind Fiverson has just bought the unit from the Hess estate $17.25 million, according to city records.
The gas guru and former New York Jets owner died in 1999 and Ms. Hess lived in the apartment until her own death in April 2010.
Mr. Hess, who got his start in the business delivering oil in Asbury Park during the Great Depression, was apparently not only a fan of gas and oil, but also loved wood. The place has so many wood burning fireplaces that Corcoran listing brokers Deborah Grubman and David Dubin have been forced to use the abbreviation for the oft-mentioned amenity. There are "WBFP"s in the formal dining room, the "stunning" 28-foot living living room, the master bedroom suite and the wood-paneled living room.
Sadly, the listing photos show only a restrained, conservative decor with no Jets paraphernalia in sight. Either a star stager got his or her hands on this place before any were taken or Ms. Hess did not share her husband's love of the game.
As for Ms. Fiveson, she lists her address on the deeds as Kings Point on Long Island, but she appears to be a woman of many cities, appearing at Palm Beach and Manhattan social functions and stopping by all different locales for golfing events. We're not sure if her new home in the gorgeous J.E.R. Carpenter building will be a full-time one, or only a pied-a-terre, but one thing is certain—she can definitely practice her putting in the 20-foot long entrance gallery that the private elevator opens out onto.
kvelsey@observer.com