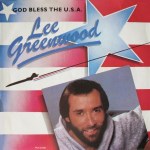 Staten Island and Brooklyn GOP congressman Michael Grimm sent a letter to schools chief Dennis Walcott requesting to meet with the kindergarten class of P.S. 90 and to drop off copies of Lee Greenwood's book "God Bless the USA"
The school, you may recall, was the school where the principal pulled the singing of Mr. Greenwood's "Proud To Be An American" by the students for fear that it would be off-putting to some students. The students were to sing Justin Bieber's "Baby," but after an outcry, that plan was shelved to. 
According to Mr. Grimm, after hearing of his strong opposition to the original decision, Lee Greenwood and Tate Publishing contacted him and said they would help the cause by donating 115 copies of the the singer's book for all the kindergarten students there.
"As a Marine combat veteran, a former FBI agent, and member of Congress, I have dedicated my life to serving this country and defending our flag," said Mr. Grimm. "Like many Americans, I have put my life in harm's way to defend this nation and would do so again without hesitation.  We should never ever apologize for being Americans, and we should certainly never ask our children to hide or silence their pride.  It is reassuring to know that so many Americans, including Lee Greenwood, share my sentiments. 'God Bless the USA' is a testimony to the strength and resilience of our nation, and served as inspiration to all of us in times of conflict, and particularly in the aftermath of 9/11. I thank Lee Greenwood and Tate Publishing for their generosity in donating these books to the students of P.S. 90's kindergarten class. They are true patriots and I am proud to partner with them in this effort to right a terrible wrong."
The full letter to Mr. Walcott is below:
Chancellor Dennis M. Walcott
New York City Department of Education
Tweed Courthouse
52 Chambers Street
New York, NY 10007
Dear Chancellor Walcott:
I write to respectfully request the opportunity to meet with the kindergarten class of P.S. 90 in Brooklyn on the morning of Monday, June 18th.
Like you, I have been scheduling as many school visits as I can this month to congratulate students on the successful completion of the school year and to encourage their continued pursuit of academic excellence.
Given the considerable attention paid to the recent decision by the principal at PS 90 to nix the performance of "Proud to be an American" at the graduation ceremony on June 20th, I believe there is an opportunity for a teachable moment here that shouldn't be missed. I would very much like to be a part of that effort by talking to the students about my own experiences as a kid growing up in New York City who learned a deep respect for our nation's freedoms – and the people who fought to protect them – and later grew up to serve proudly as a Marine, FBI Agent and US Congressman.
Additionally, I would like to make available to the students and their families a copy of Lee Greenwood's book "God Bless the USA." As you likely know, Mr. Greenwood wrote and sang the "Proud to be an American." After hearing the news about P.S. 90, Mr. Greenwood contacted my office and, on behalf of Tate Publishing, offered copies of his book, which includes a free download of his famous song, for every child in the class. It would be my pleasure to deliver these books during a visit on Monday morning.
While I would very much like to attend the graduation ceremony on the 20th, the House of Representatives will be in session and thus I will be in Washington, DC. Therefore I sincerely appreciate your considering my request for a visit on Monday, June 18th.
Sincerely,
Michael G. Grimm
Member of Congress