After a failed U.S. Senate and gubernatorial campaign, it would appear Connecticut's perpetual political challenger Ned Lamont has finally decided to stop courting the voters of the Nutmeg state.
Instead of hitting the campaign trail for a third time, it would seem that Mr. Lamont has focused his sights on the many charms of Manhattan, where he and wife Ann Huntress Lamont have snapped up a $4.6 million condo at 301 West 57th Street, according to city records.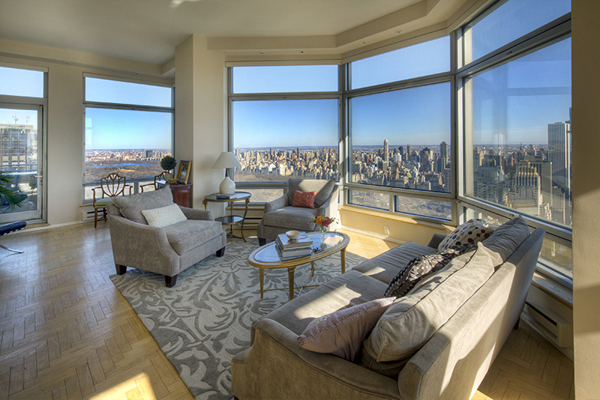 We assume that the two-bedroom property will be a pied-a-terre for the Greenwich-dwellers. After all, Mr. Lamont, a telecommunications entrepreneur and heir was one of the biggest self-funding politicians in the country, when he went up against current Governor Dannel P. Malloy in the 2010 primary. He could certainly afford something more lavish if he was going to make his primary residence here.
And really, we can't imagine why he would, unless he's hoping to follow in the footsteps of New York transplant Hilary Clinton. In any event, it should make a nice place to stay while attending the summer's many political fundraisers.
The property, listed for $4.9 million with Brown Harris Stevens brokers Drew Glick and Richard Ferrari, spent a little over three months on the market. And while seller Vincent Polimeni didn't get all that he asked for, he still did well considering he bought it for $3.6 million in 2008.
As for the apartment itself, one would feel a little like the king of the world (if not the governor of Connecticut) looking down from the 52nd floor out over Columbus Circle, Central Park and well, pretty much everything else in the city.
"One of the most mesmerizing views in Manhattan!" the listing gushes, which the Lamonts will be able to enjoy from 180 degrees of windows from their living room. There are also two balconies and the usual high-end stuff: marble baths, herringbone wood floors, excellent closet space.
Mr. Lamont should fit right in here. In fact, the noted Walmart basher could very well score a power position in New York's battle against the big box retailer (provided he's pulled his stock out of the company by now).
kvelsey@observer.com