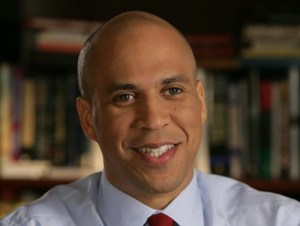 Newark Mayor Cory Booker is co-hosting a fundraiser for President Barack Obama at The Plaza Hotel tomorrow and he hopes it will lay to rest once and for all any impression he somehow defected from the president's re-election effort after his comments he was "nauseated" by the Obama campaign's attacks on Mitt Romney's tenure at Bain Capital. The Politicker reached out to Mr. Booker to ask whether he believed the fundraiser would put to rest persistent chatter in the New York Post and elsewhere that the Bain brouhaha signified a break between him and President Obama. His response was emphatic.
"Since when do you all at NY Observer give so much credence to the Post on chatter? I'm giving speeches around the country for the party, I'm co-chair for the DNC Platform committee, I'm fund-raising for the campaign, hosting Thursday's event and more," Mr. Booker wrote. "Draw your own conclusions."
Last Friday, the New York Post published a report citing unnamed sources claiming Mr. Booker was "dead to" the White House and the Obama campaign following the controversy over his comments on Bain last month. Republicans and the Romney campaign have also repeatedly tried to capitalize on Mr. Booker's comments about Bain.
Almost immediately after the remarks were made, the Romney campaign released a video citing Mr. Booker's comments as evidence the president's "key supporters" had "enough of President Obama's attacks on free enterprise." The Romney campaign also sent emails highlighting Mr. Booker's remarks and other comments by former Democratic Congressmen Harold Ford Jr. and Artur Davis as "Dem Defections" and the Republican National Committee attempted to raise money off the flap. In an appearance on MSNBC's The Rachel Maddow Show the day after his comments on the Bain attacks, Mr. Booker said he was outraged by the Republicans' attempts to score political points off of his remarks.
"As far as where my heart is right now I am very upset that I am being used by the GOP this way," Mr. Booker said.