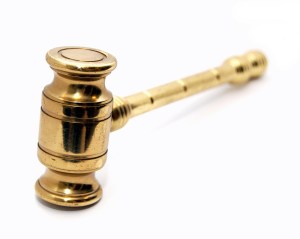 After suffering a loss in a California district court last month, artists suing auction houses for resale royalties they argue they are owed under state law won a minor legal skirmish on Wednesday. Oddly, their success was the result of having their motion denied by another district court judge.
Earlier this month, Jacqueline Nguyen, a California district court judge who now works at the appellate level, ruled against Chuck Close and other artists and estates who were suing Christie's, Sotheby's and eBay for not paying them the five percent royalties that state law requires from secondary-market sales. In her ruling, Judge Nguyen argued that the state's resale royalties act violates the Commerce Clause of the Constitution since it claimed to cover sales in other states.
At that time, it was widely reported that the law had been rejected on constitutional grounds, and some outlets wrote that the law had been effectively struck down.
Wednesday's ruling on the motion makes clear that the law remains in effect. The artists had filed the motion aiming to make clear that the earlier ruling did not strike the law. To do so, they cleverly asked the court to stay the invalidation of the law—of course, they believed that the ruling had done no such thing, but they wanted to get the judge to state that. Which is what happened: Judge Michael W. Fitzgerald wrote, "[T]he Order is not a binding precedent on other district courts either within or outside the Ninth Circuit," reminding everyone that a district court can not render a state law unconstitutional. "[T]he Court has not ordered any party to act or refrain from acting," he wrote. Consequently, he denied the motion, writing that there was nothing to stay.
"[H]igher courts will determine whether the Act deserves that scorn," Judge Fitzgerald added, referring to Judge Nguyen's rejection of the law on constitutional grounds. In other words, that Commerce Clause argument may end up being considered perfectly sensible and valid, but it's up to a higher court to actually strike the law. With a bit of panache, he added, "The Court can no more 'stay' the Order than it could 'stay' a law review article."
One of the lawyers for Michael A. Bowse, of Browne George Ross LLP, who is representing the artists in the case and provided the text of the ruling to Gallerist, told us today that his side made the motion in order to clarify to all parties—as well as the media—that the law remains in effect. According to Mr. Bowse, the appellate case is still months away; his side filed paperwork yesterday to provide notice of their upcoming appeal. So we'll have to wait a bit longer to see how persuasive a "law review article" Judge Nguyen wrote.