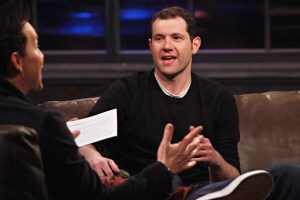 Billy Eichner makes a living harassing people, and he's very good at it. Mostly in his Chelsea neighborhood, he abruptly approaches strangers and assails them with manic interrogations about low-brow culture. However, they do get a chance to make some cash.
It's all part of his frenetic and hilarious show, Billy on the Street, currently in production on its second season, which poses to New Yorkers questions like, "What's the name of the Disney Channel show that made a star of Miley Cyrus?" (Options included Hannah Montana and Smoker's Cough.) Some of the questions are pure, if easy, trivia; others necessitate agreeing with Mr. Eichner's opinion in order to get the cash prize. "Has 50 Cent ever thought about Mitt Romney?" (The answer is no.)
One memorable sequence saw Mr. Eichner shouting down a person who had the audacity to say he preferred Glenn Close to Meryl Streep. The show is low-budget and clearly strung together quickly—when Mr. Eichner takes off running after a potential contestant, the cameramen must immediately follow suit. "It makes Cash Cab look like a David Lean film," Mr. Eichner said.
While Mr. Eichner's show is not the series one would expect for MTV's hipper-than-thou Fuse network, Mr. Eichner, in person, is not the Billy Eichner one expects to meet. Sitting for an interview shortly before the second season began filming, Mr. Eichner was softer-spoken by far than his on-screen portrayal of the crazed host. When The Observer admitted we were not among Meryl Streep's fans, Mr. Eichner was decidedly sanguine.
"I am not a fan of yours anymore—I'm kidding!" he said.
Mr. Eichner's celebrity obsession—an encyclopedic knowledge of popular culture, and a broad and deep interest in fame—is real, but the militancy and brusqueness are fake. "The opinions are all my own," he said, "but the way I am behaving is very much sort of like a cartoon of how I am in real life. Which is what most comedians are. Chris Rock is not always onstage screaming about fucking some girl. It is an exaggeration of the thoughts that go through his head … So it's definitely me, but like me times a thousand in order to get the point across."
The point here is a satire of celebrity obsession, with Mr. Eichner as guide. With some totally tuned-out exceptions, most of the randomly chosen New Yorkers Mr. Eichner interrogates are plugged into celebrity culture enough to have strong opinions, like the older gent who calls the star of The Iron Lady "Meryl Streak" but is still absolutely certain Glenn Close is the better actress.
"You'll go up to someone who looks really boring, like they have nothing to give you," Mr. Eichner said of his on-the-fly contestant-screening process, "and they'll launch into some hilarious speech about Katy Perry. It's like, how does this old lady have an opinion about Russell Brand?" In his sly awareness that we all have an opinion about the B-list British comic, Mr. Eichner operates in a similar place as talk-show hosts Kathy Griffin and Chelsea Handler, though his humor is less curdled with disaffection for celebrity culture and more obsessively adoring. "I love fighting for the people I love as much as much as I like saying snarky, bitchy things about the people I don't like," he said. He's like Bravo consigliere and nightly TV host Andy Cohen, if Mr. Cohen didn't have a job running a TV network and had been forced to channel all the psychic energy he uses on the Real Housewives franchise into handicapping the ups and downs of 40-something actresses and current pop stars. A fame-crazed gay man trolling his fellow citizens with aggressively expressed opinions might be the perfect TV icon for an era in which there seem to be more celebrity commentators than actual celebrities.
Comparing his series to "some, like, dry show analyzing our love-hate relationship with celebrities," Mr. Eichner said he had hoped to "go really far in the other direction and take my obsession with celebrities and take it to, like, the 10th power and get in people's faces and make it everyone's business." It helps that, unlike a talk-show host, Mr. Eichner isn't interacting with real celebrities. He's burning brighter than anyone to whom he speaks on Billy On the Street, as if to prove the only difference between a star and a civilian is brashness. On the rare occasion he encounters a real star during Billy on the Street, he's uncowed: the episode in which Joan Rivers steps out of a waiting car to assist a Long Island housewife, in New York for the day, is amusing for how flustered the contestant gets, how full of nosy passersby the sidewalk becomes (who knew there were so many Joan Rivers fans?) and how unperturbed Mr. Eichner remains. His character is that of a little kid who got to play at having his own show for the day.
Mr. Eichner was, indeed, a child actor, going both to auditions and to Broadway shows from his Forest Hills home base. "I was very much an only child who was raised by the television and movies and I grew up in New York. We weren't, like, rich people, but we were middle-class people and my parents supported this love I had for entertainment." Like many ambitious child actors, he ended up at Northwestern, where he studied alongside alt-comedy star Kristen Schaal. "We've seen each other do Greek tragedy, because that's what you do when you're in a serious acting program," said Mr. Eichner, whose other turns at Northwestern included "Chekhov and David Mamet and Shakespeare."
"I thought I was going to be like Kevin Spacey in college," he said, before moving to New York and having mixed success at auditions. "Now I'm only like him off-camera. Allegedly. Don't get sued for Kevin Spacey. Not worth it." He'd been told by a college professor that a character actor like him—Mr. Eichner is hale-looking but not movie-star handsome—wouldn't work until his late 30s.
"I think I emailed her: 'Look, I'm working, and I'm not in my late 30s, it happened 10 years earlier than you thought it would, so fuck you!'" Even that slip into a diva-ish persona cannot be allowed to go uncorrected by the real, the nice, Mr. Eichner: "No, I love her."
The man-on-the-street work, for Mr. Eichner began its life as a series of interstitial taped bits for his live comedy shows, after Mr. Eichner's parody of a Jay-Z song called "Forest Hills State of Mind" got picked up on established sites like the Huffington Post and Funny or Die. Mike Farah, the president of production at Funny or Die, Will Ferrell's online comedy concern, called Mr. Eichner in for a meeting, and the company invested time in a "sizzle reel" of on-the-street footage that they then pitched to networks. Mr. Farah recalled that Comedy Central, Bravo and E! were among the networks to have expressed interest in the reel.
"It's probably the most real reality show there is," Mr. Farah said. "The shooting schedule is just, O.K., we're going to the street at 11 a.m. and a motley crew of young kids with releases and cameramen follow Billy around."
The show, perhaps surprisingly, given its gay host and a dishing-over-Bloodys-in-Hell's-Kitchen sensibility, plays broadly: "56 percent of the audience are men, 43 percent are women," Mr. Eichner said. "One percent are … unknown! Transgendered! I don't know. One percent of our audience is Glenn Close."
"He's kind of perfect for the social-media age," Mr. Farah said. "There's so much more transparency now. Celebrities aren't this thing you only see in movies once a year. There's much more access now." This means that celebrities are easily subject to criticism, but also that a series of parody videos can end up making a television star.
As Billy on the Street continues to grow, is Mr. Eichner concerned about growing so famous that he'll be the subject of criticism from the millions of pop-culture consumers he represents? "Don't pretend," he said, addressing unseen celebrities who decry the cost of their success, "that fame is some terrible by-product of what you wanted to do. That's such bullshit. I don't even believe it about Sean Penn.
"You have pure intentions of being an actor, go into regional theater, and no one will care about your nude pics."
What comes after Billy on the Street? For one, Mr. Eichner has been exposed to a yet broader audience through his appearances on Conan, including travelling to the Super Bowl for his trademark antics.
"You are your own commodity, and, like, you are your own product. I don't mean that in a gross way," he said. "If I want there to be life beyond Billy on the Street for me, and hopefully there will be, I have a feeling that, like when I was doing YouTube videos and had no money, I'm going to have to be the person steering that ship." It seems the real Billy Eichner understands celebrity even better than the fake one.