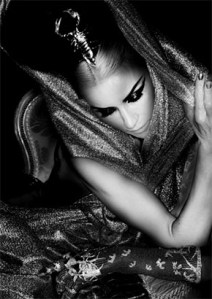 On June 27, Christie's in London will auction off the Daphne Guinness Collection, about 100 pieces from the heiress's personal wardrobe (or, if the press release is to be believed, we might consider calling it "fashion's most contemporary cutting-edge muse's" wardrobe). The catalogue is available now. The sale will benefit the Isabella Blow Foundation, which supports the intersection of fashion and art. Ms. Guinness purchased the late Isabella Blow's entire clothing collection in 2011.
In what is perhaps an auction press release first (for us anyway), there is a section called "Notes From Friends," which are all written as direct messages to Ms. Guinness.  There is some real Ben Franklin-level aphoristic stuff here, people:
Nick Knight: "You are forever riding in and saving the day!"

Noritaka Tatehana: Daphne "is one of the most irreplaceable and precious person [sic] in my life right now."

Meredith Etherington-Smith: "Not only is Daphne Guinness a sensitive, original and perceptive interpreter of fashion, she is also extremely  generous."
Informative!
The 102-lot sale is expected to raise about  $150,000.