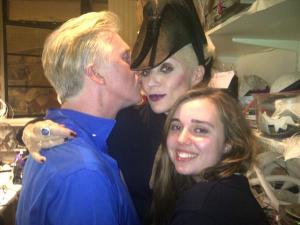 Though we couldn't hear it, a round of applause was apparently heard in the salesroom when Daphne Guinness's metallic mini dress by the late designer Alexander McQueen sold at the Christie's auction for $123,709, according to the house's Twitter feed. It was a new world record price for McQueen at auction. The auction for the Daphne Guinness Collection brought in a total of $744,285 with 88 percent of lots sold.
World records were also set for designer Christian Lacroix ($25,366 for a lace dress with black 'matador' jacket) and photographer Mario Testino ($208,003 for a photograph of Ms. Guinness) at the auction, which benefited the Isabella Blow Foundation.
Watching the auction unfold on Twitter, one could almost hear the fashionistas battling it out over Ms. Guinness's shoe collection. A pair of Alexander McQueen "Angel Wing" platform boots in black satin with gold-bronze glass beads and gold-painted heels that bore effigies of angels went for $23,415. A pair of black leather boots studded with silver metal and with a silver metal heel sold for $11,708. Another pair, a dizzying heelless number in red metallic leather embossed with a floral pattern by Noritaka Tatehana took in $12,683.
And while she may be mysterious, Ms. Guinness also takes fondly to Twitter. Here is a smattering of Ms. Guinness's post auction Tweets:
@porcelain5000 i am in pieces! very emotional….

Love brings to light the exalted and concealed qualities of a lover. for good or ill. but LOVE knows all in the en http://twitpic.com/a1ax08

@titasays i believe, and i don't feel that life owes me anything. I am grateful for what I have. And to hopefully carry on!!!!

@NORITAKAcoltd @ChristiesInc MAESTRO!!!!!