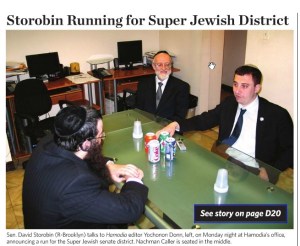 It's official: State Senator David Storobin will run for reelection in a new, heavily Orthodox Jewish State Senate district. The move doesn't exactly come as a surprise as Mr. Storobin had been strongly hinting at the possibility for some time, but as Hamodia's widely-read weekend edition will report tomorrow, his primary Republican opposition, attorney Nachman Caller, will drop out of the race and endorse Mr. Storobin, clearing his path to the GOP nomination.
Mr. Storobin finally won the recount for a special election in corrupt State Senator Carl Kruger's district a week or so ago, but because his current seat was dismantled in this year's redistricting process, his plans were previously in some doubt.
"I am very happy that I won the previous election," Mr. Storobin told the newspaper. "I think it was a big victory for the Jewish community. I think it was a big victory for all of those who subscribe to conservative values, and I think we need to continue."
Mr. Storobin now is likely to face Democratic former City Councilman Simcha Felder in the general election, although Democrat Avraham Tischler recently started filing petitions to be on the ballot too.
Mr. Felder, who's backed by a good chunk of the Orthodox Jewish political establishment, starts out as the frontrunner, but this is a race to watch this November as the district's main constituencies are increasingly trending towards the Republican Party.
"Storobin would not say if he discussed it with Senate majority leader Dean Skelos (R-Rockville Centre), who had been reported to be backing Felder," the article continued. "And he dismissed the backing key elected officials in the community gave Felder — Assemblyman Dov Hikind and City Councilman David Greenfield both endorsed Felder … shortly after his announcement."
"There are a lot of people who are supporting us and we will be rolling out endorsements," he countered.