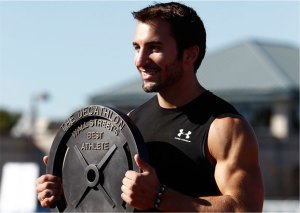 "We've had senior managers and C-level guys really interested in the competition, but they're in Japan one week, London the next, and they may feel like they don't have time to train for all 10 events," said Marc Hodulich, co-founder of the Decathlon, an annual fundraiser that seeks to crown the "Best Athlete on Wall Street." "So this year we decided to open up a team division."
When Mr. Hodulich and co-founder Dave Maloney staged the first iteration of the event in 2008, they envisioned the competition as an individual affair. Participants racked up points for their performance in 10 events—the 40-yard dash, 400- and 800-yard runs, bench press, agility drill, vertical leap, rowing, dips, pull-ups, and football toss—with the high-scorer earning the title of best athlete in the financial services industry.
As the event grew, organizers seized on its increased popularity to raise money for the Memorial Sloan-Kettering Cancer Center, and the event took on a team aspect. Competitors raised funds within their firms, and the company that contributed the most money was highlighted for its efforts. Last year, Goldman Sachs (GS) was the top fund-raising firm, followed by Bank of America Merrill Lynch and Knight Capital Group.
This year, the Decathlon is opening up a division for teams of three competitors: Two entrants will compete in three events each, while a third will participate in four. In addition to making it easier for senior executives to participate, Mr. Hodulich hoped the new format would appeal to smaller firms and help overall fundraising efforts.
"Say you have two guys at a hedge fund, and the fund's founder wants to make a gift, but he's got to pick one guy or the other, or split the donation. Now they can find a third teammate and pool the funds."
Registration for the team division opened today. According to the Decathlon's website, donations for this year's event have topped $330,000, towards a target of $1.5 million. The competition takes place at Columbia University's Wien Stadium on July 29.
[Photo courtesy of the Decathlon]