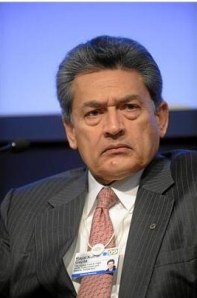 Rajat Gupta, the former McKinsey & Co. chief executive accused of leaking corporate secrets to hedge fund manager Raj Rajaratnam, will not testify in his own defense, according to a letter sent by Mr. Gupta's lead attorney Gary P. Naftalis to Judge Jed Rakoff yesterday:
"We have the spent the last day reviewing what we believe we need to present in the defense case," Mr. Naftalis wrote. "After substantial reflection and consideration, we have determined that Mr. Gupta will not be a witness on his own behalf in the defense case."
That news marked a change in course, according to The New York Times, which reports that Mr. Naftalis told the court last week it was "highly likely" that the defense would call Mr. Gupta to the stand. On the other hand, it may simply mark Mr. Naftalis' decision to discard an oft-used red herring.
"If you want your adversary to waste time preparing for a cross-examination, you might make them think that you're going to call the defendant," Columbia law professor John Coffee told us about a week ago, during a call to discuss the challenges of prosecuting white collar crimes. "It he took the stand it would be make-or-break, and I don't see a veteran counsel like Mr. Naftalis going through with it."
With Mr. Gupta off the docket, closing arguments could begin as soon as tomorrow.
[World Economic Forum/Michael Wuertenberg]