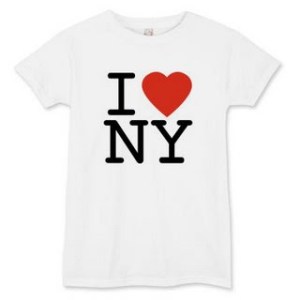 Yesterday, three disabled Vietnam veterans were arrested for allegedly selling counterfeit "I ♥ NY" T-shirts. According to the Street Vendor Project at the Urban Justice Center, the vets were also detained for five hours before being charged with trademark counterfeiting in the third degree.
"I love New York, and I show my love for New York every day by selling these t-shirts," Larry Wagner, 67 and wheelchair-bound, said in a statement. "I've been selling these same shirts for more than two years – I had no idea they were counterfeit."
The statement sent out by the Street Vendor Project said Mr. Wagner, who has worked as a vendor for the last four years, was selling t-shirts, hats and sweatshirts from his table at Little West Street and Battery Place when an undercover police officer arrived.
"The officer identified about two dozen of Wagner's eight dozen shirts as fake, telling him 'you're under arrest,' and placing Wagner in the police van nearby," the statement said. "Over Wagner's protest, the officer refused to take Wagner's wheelchair with him to the precinct."
When Mr. Wagner asked the officer how to identify whether an "I ♥ NY" shirt was counterfeit, he claims the cop told him it was "a secret." Mr. Wagner, who said he has never been arrested before claims he suffered back pain without his wheelchair for support in the cell. He also said he was not permitted to call his wife, who was extremely scared when he did not appear at home on schedule.
"I don't understand how we are supposed to know what is counterfeit," said Mr. Wagner who claims he purchased the shirts from a supplier in Brooklyn. "I fought for my country and now they are putting me behind bars for doing nothing wrong."
The iconic "I ♥ NY" was designed in 1977 by ad man Milton Glaser, who did the work pro bono because, in his words, "it was of benefit to the state." Though the state got the logo for free, in the years since, New York has copyrighted the design and gone to great lengths to protect the logo, which generates over $30 million a year. In 2001, Mr. Glaser himself received a cease and desist letter from the company overseeing the "I ♥ NY" trademark after he created a modified version of the logo for a campaign commemorating the September 11th attacks called "I Love New York More Than Ever."
A 19th century law meant to help soldiers returning from the Civil War allows disabled veterans to work as street vendors in New York City without many of the restrictions placed on others who want to sell their wares in the streets. Sean Basinski an attorney and director of the Street Vendor Project at the Urban Justice Center has vowed to accompany Mr. Wagner to his court appearance on July 25.
"We'll fight these charges," Mr. Basinski said. "In the meantime, we hope the NYPD will focus on finding real criminals, not hard-working patriots like Mr. Wagner who are committing no crime and keeping tourists happy."
A spokeswoman for the NYPD declined to comment on this story.