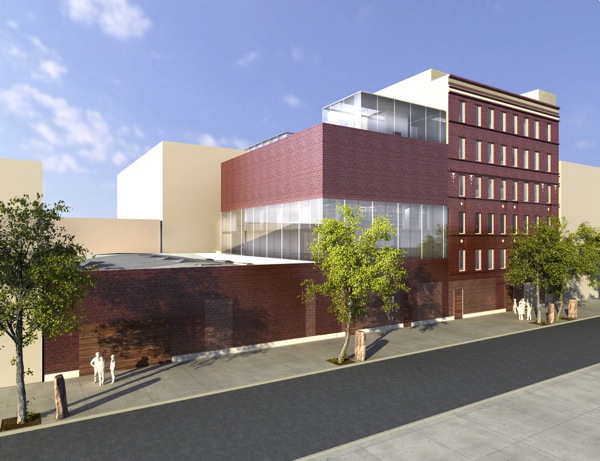 "Not to be critical of others, but a focus on art and a way to display art are hard things to find in the world," Roger Duffy said during a recent tour of the Dia Foundation's three buildings on West 22nd Street. "When I meet many artists, I ask them what their favorite museums are, and there aren't many. There's a lot of investment going on, but not much else."
It is Mr. Duffy's job to ensure Dia does not waste its investment on West 22nd Street (again), and his goal is to create a space for displaying art in Dia's three buildings there, and little else. "How could you create a vessel that displays the art, really foregrounds the art?" Mr. Duffy said of his mission.
A principal at SOM, Mr. Duffy is well suited to this task, and not least because he has befriended many of the artists who have shown at Dia and incorporated their work into his. That sort of collaboration will be instrumental in the success of Dia's new Manhattan home. But it is also Mr. Duffy's commitment to creating unique spaces, driven by the site and the client's wishes, rather than preconceived notions or a signature style. "We don't do standalone objects," Mr. Duffy said.
Philippe Vergne, Dia's director, values this approach, and he said he struggled to find it anywhere else among the hundred or so architects he interviewed for the job. "We never talk about design, we talk about solutions, massing, volumes," he said. "It's all very abstract, very conceptual. He puts the experience above all else. Best of all, it's a collective effort. He listens more than he talks."
The Dia project is still in its infancy, even if it is three years old—Mr. Vergne first announced plans for Dia's triumphant return to 22nd Street just a year after Lehman collapsed. Since then, he said he has been putting Dia's finances together and assembling his site. Last June, the foundation purchased the old Amato Marble Works, a simple redbrick box located between Dia's headquarters at 535 West 22nd Street and the Pace space it owns next door, for $11.5 million.
The plan is now to connect the three plots into a cohesive whole, a project Mr. Vergne insists will become a reality. "It is not lost on me that an announcement was made three years ago, and two years ago," Mr. Vergne said, "but the whole time we have been working on putting together the pieces, the land, getting our finances in order, finding our architect. And there is also the recession going on at the same time."
"I made the announcement, so I am fully confident this will happen," he added, though he would not give a budget for the project. "That is still being formulated."
So too is the design, though an outline is beginning to emerge. Among the ideas Mr. Vergne and Mr. Duffy have cultivated is that they want this to be an institution that fits in with the neighborhood and yet stands apart from it at the same time as a distinctive place for art. "We want something that is different from Chelsea, which is very formulaic and strict, these massive white spaces," Mr. Duffy said. "They're investing in the art of architecture, but I'm not sure they're foregrounding the art. They're interesting buildings, but what's the priority?"
Mr. Duffy's priority is creating "a procession" through the art. The Marble Building will be replaced with a new three-story structure connecting to the Pace building, which previously served as a gallery for Dia until it sold its building across the street in 2004, and the five-story headquarters buildings. The ground floor of each building will contain a gallery, each with its own feel. Even the new building will be designed to retain the bones of its predecessor, the marble works. "The Pace building is wood, the marble works is steel, and 535 is concrete," Mr. Duffy explained. "They all have their essential character, and we're looking to retrain that character as much as possible while creating a unified space."
This unity will be visible on the outside, where the three buildings will be faced in the same redbrick, but given their varying sizes and compositions, the uniqueness of the pieces will still stand out from the unification of the whole. The second story of the headquarters building will likely contain gallery space while the one in the new building will have a combination of flex space, for installations or performances, as well as a mezzanine with a library. A large wrap-around window will suffuse the rooms with natural light.
There will be another gallery above that, on the third floor, while the third floor of the headquarters building will continue to serve as the Dia Foundation's administration offices. The floors above that could continue to provide space for outside galleries and local businesses, as they do now, or provide some other use.
A major challenge within this project is that it is meant to serve living artists, working on projects lasting up to a year. "Beacon is for the collection, the history of Dia, and Chelsea will be for the living artists, the new work," Mr. Vergne said.
"How do you design for the unknown?" Mr. Duffy said.. "That is what we are trying to figure out." A big part of that will be creating as many varied and flexible spaces as possible within the separate structures of the three buildings. Other possible design solutions to accommodate a multiplicity of exhibitions are still being explored.
And yet Dia will not totally reject its past. Favorites like Dan Graham's old Rooftop Urban Park, which was once housed on the roof of the former space across the streett 548 West 22nd Street, will now be installed on the roof of the new building, beside an outdoor cafe. Mr. Duffy enthused about the views from there, which cleared the neighboring buildings and Chelsea Piers, offering clear sight lines to the Hudson.
"The Whitney, the High Line, the galleries—why not be a part of this community?" Mr. Vergne said.
This is not only a return for Dia to New York, but also to an earlier incarnation, when it was taking old buildings and transforming them with art. For Mr. Duffy, who had a near-messianic experience at the old Dia space the first time he visited in 1988, it is a welcome return.
"It'll be great to have Dia back," Mr. Duffy said. "For me, it's all about the artistic experience and we're simply a vehicle for doing that."