A moderately hysterical piece of pop culture ephemera/crime appeared in the New York Post this weekend, with a follow-up this morning: Something about Drake, a lawyer, and a stolen Rolex? Here is a perfect example of a story that makes little to no sense, no matter how you decide to hear it.
The Post reported on Sunday that Manhattan lawyer James McMillan—an entertainment lawyer whose firm represents acts like the Clipse, Ron Browz, J.U.S.T.I.C.E. League, Too Short and Slim Thug, among others—was claiming that he had his watch effectively stolen by half-Jewish, half-Canadian, recently re-Bar Mitzvah'd rapper Drake.
As the story goes:
1. McMillan took his Rolex in to be cleaned by Rafaello & Co., the midtown store where he purchased it. Their client list, according to the Post, counts Alicia Keys, Jamie Foxx and Carmelo Anthony among its customers.
2. Supposedly, Rafaello & Co. owner Rafael Aranbayev loved the watch, and decided to wear it.
3. McMillan thought his watch would be returned.
4. His watch was never returned.
5. He was offered a replacement watch to hold on to instead.
6. He was told that his watch had been sold.
7. Drake says that the Rolex he wears belongs to him.
If this story doesn't make sense to you, that's because you're a sensible human being. Questions:
– Why didn't McMillan, a lawyer, report his watch missing to police the moment it went missing?
– Why didn't McMillan, a lawyer, think there was something odd when he was told the owner decided to commandeer his $30,000 Rolex Presidential, and report it to police?
Finally, why would the New York Post print this quote in their story about Drake's denial of the watch?..
A source close to Drake said he got it directly from Rolex — and "never heard of this jeweler."
..When a simple Google search would turn up not just a NY Daily News story tying Drake to the jeweler…
"When Drake came in a few months ago it was 6 in the evening. A lot of the stores were already closed, but there was foot traffic. They saw he was here and then it was crazy. I had maybe 1,000 people outside."
…but a picture of Drake, with the guys from Rafaello & Co., in front of a Rafaello & Co. background, as featured on the Rafaello & Co. blog?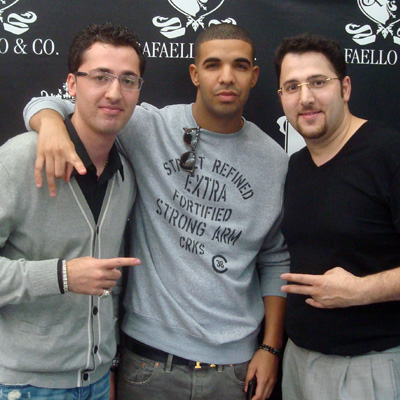 That said, the single Yelp review for Rafaello & Co, if you're interested, is three stars:
Rafaello and Co reached out to me concering a review I had posted about them. Their owner has taken steps to rectify the situation and I appreciate their dedication to customer service.
So maybe they'll sort this entire thing out. Until then, we have an early entry for oddest story of the week. Also, good to know that "off-the-back-of-a-truck-market" is (possibly) alive and thriving in Manhattan once again.
fkamer@observer.com | @weareyourfek