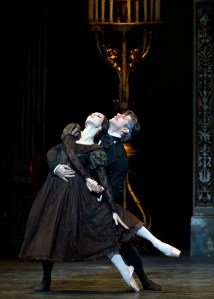 ABT has completed the first half of its spring season at the Met. We've had the Giselles (and their sister Wilis), Bayadére's Nikiyas (and their sister Shades). We've been lucky enough to have the population of the Bright Stream collective farm and the visiting artists who come to cheer them up—though they're pretty cheerful already. And we've had a brand new production of John Cranko's Onegin. Did we need it? Did we need Onegin at all? No, but ABT needed it. How can the company fill the huge Met without the full-evening costume dramas that keep the tourists coming?
It was in 1965 that Cranko created Onegin for the Stuttgart Ballet and its highly regarded (though not by me) dramatic star Marcia Haydée, and it was in 2001 that ABT took it on. Ballerinas like to dance its heroine, Tatiana, and why not? She loves, she suffers, she has her revenge on the man who spurned her when she was a shy and sensitive girl, and she gets to glitter as Queen of the Ballroom after she marries the rich, older general who's at the heart of Petersburg society. What she doesn't get to do is any interesting dancing, but you can't have everything. It's waltz, waltz, waltz in the group scenes and lifts, lifts, lifts in the duets. The characterization comes from the emoting, not the steps.
For Russians, to whom Pushkin's poem Eugene Onegin is sacred text, the ballet's story and personae are as familiar and filled with meaning as, for instance, Romeo and Hamlet, are for us. Russians know whole stretches of it by heart, the way we know Shakespeare and Italians know Dante. We Westerners who don't speak Russian know it best from Tchaikovsky's glorious opera. (One of the peculiarities of Cranko's effort is that although he uses Tchaikovsky music, it's not music from the opera.) For us, Onegin isn't part of the cultural consciousness; it's just another story line.
Star performances can partly redeem it, and ABT is star-studded again, thanks to its recent influx of superb ballerinas from Eastern Europe. The Kirov's Diana Vishneva, a paragon of strength, beauty and dramatic power, was the first-cast Tatiana—it's a natural role for her. To cast the wonderful Natalia Osipova, now a major attraction here, as Olga was luxury casting; this isn't a role that demands her exceptional speed and brilliance. Perhaps the most gratifying performance of all came from ABT's own Marcelo Gomes as Onegin, that callow Byronic figure whose careless pride leads to the fatal duel that destroys three lives, including his own. Gomes is handsome, impudent, haughty yet sympathetic—a riveting figure with nothing riveting to dance. Does it matter? He's as real a star as his colleague David Hallberg, and as appealing a personality.
The new production is by the estimable Santo Loquasto. It doesn't help, it doesn't hurt; it's pretty, conventional, unexciting, like the ballet itself. No treatment of the décor could turn Cranko's Onegin into a classic. And yet for all its vacuity as a dance event, Onegin has the virtues of lucidity and cohesion. It's certainly an improvement over such recent other ABT attempts as The Lady of the Camellias.
Osipova's Giselle was the same girl she first stunned us with several years ago—amazingly buoyant and secure. Her dancing is faultless, her interpretation more open to question. For me, her mad scene and death lack the ultimate pathos we've seen in Ulanova, Fonteyn, Makarova and others, including that other current European wonder, Alina Cojocaru. Osipova at the end of Act One leaves me grateful for her ability, not wounded to the heart. Hallberg, her Albrecht, is consistently thrilling. Those legs, that stretch, that grandeur, that radiance. A few mannerisms are creeping in—no doubt picked up at the Bolshoi, for whom he now also dances. The head is flung back just a little too melodramatically as he exits, flying; too much is made of the cape; even the famous hair looks a touch Sovietized. But he's America's finest homegrown danseur noble, and he's entitled.
And then we see him in Ratmansky's Bright Stream, in full Les Sylphides drag—good-natured, enjoying the joke, part of the fun. And (a quality he shares with Gomes) essentially modest. Bright Stream, with its nonstop energy and endless invention—the big black dog on the bicycle, the human tractor—delights the audience, although the house isn't as full as it should be: no swans, no Wilis, no Shades. Just about everyone looks terrific in it, maybe because just about everyone, including the happily deployed corps, has something meaningful to do. And, maybe because it's a ballet about a community, ABT looks like a community when dancing it. Its one weakness is the underdeveloped lead female role; Zina has lots to do, but a good deal of it is generic—we never really know who she is. Even so, Paloma Herrera brings some life to her. Sadly, Julie Kent is too wan, her technique too eroded, to do the same, nor should a woman of her years have to lie on her tummy on the ground, friskily kicking up her heels.
As for the sillinesses of Bayadère, they fade in the light of the great "Kingdom of the Shades" act. ABT's corps descends the ramp with precision and dignity; the genius of Petipa has supplied the rest. Yes, we have to survive the Orientalia—the Rajah, the High Priest, the stuffed tiger, the ecstatic fakirs, the Bronze Idol, the fatal snake buried in the posy of flowers, the swaying harem-y dancers—but it's all worth it for the Shades. And some of the nonsense can be fun.
Nikiya is one of the touchstone roles in classical ballet, and perfect for Cojocaru—tender, delicate, passionate, true. She and her superb partner, Herman Cornejo, convince us of their ardor and their doleful fate. Another new Russian import, Polina Semionova, seems twice Cojocaru's size and was half as effective. The production, by Makarova, is handsome and coherent, but Bayadére is heavy, heavy, and long, long.