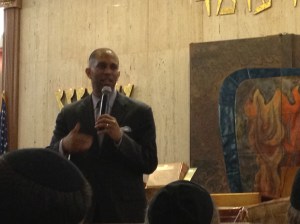 Although Assemblyman Hakeem Jeffries is a candidate for a majority African-American congressional district, he is spending plenty of time and campaign resources reaching out to the district's diverse constituencies as well, with Election Day looming only a week away. This includes the Jewish vote. For example, Mr. Jeffries could be found at the Flatbush Park Jewish Center last night and on post-Shabbos Jewish radio last weekend, listeners were treated to a steady stream of ads from former Mayor Ed Koch.
"This is Ed Koch, remember me?" The former mayor said in the ad. "On June 26th voters in your community will be going to the polls to vote for a new member of Congress. I urge you to vote for Hakeem Jeffries. Terrific guy! He will be a great congressman."
As Mr. Jeffries has been doing at recent events, Mr. Koch makes sure to mention that he's the candidate who will fight to protect Israel.
"Jeffries is great on the issues: job creation, affordable housing, protection of Social Security, Medicare, and education," Mr. Koch continued. "Oh, did I mention Israel? He's a fierce defender of Israel."
Left unsaid is that his opponent in the primary, Councilman Charles Barron, is a fierce critic of Israel who compared the situation in the Gaza Strip to "concentration death camps," among other many other things.
Listen below:
Ed Koch for Hakeem Jeffries