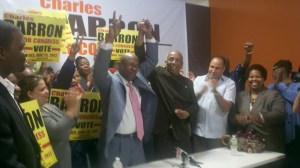 Congressman Ed Towns, who rather suddenly endorsed Councilman Charles Barron for his congressional seat this year, is fully behind Mr. Barron's candidacy. Indeed, with a big smile on his face earlier today, Mr. Towns swore to put every resource he has into electing Mr. Barron, which he assured reporters would happen as the "Charles Barron for Congress" song blared from the lips of a throng of supporters around him.
"Why?" Mr. Towns asked himself to start off his speech. "Well, I'm glad you asked the question. We need a strong voice in Washington D.C., a person that's independent and is going to tell it like it is."
Mr. Towns took a few indirect potshots at Mr. Barron's rival for the Democratic nomination, Assemblyman Hakeem Jeffries, as well.
"We need to have someone that's going to be involved in a direct fashion, none of this wishy-washy stuff, talking one thing in this neighborhood, another thing in that neighborhood," he continued. "We need to have somebody that is going to look at the facts, tell it like it is because that's the way it is!"
The event also represented a continuation of the makeover Mr. Barron's political brand has been undergoing. When he announced his campaign, he made bold proclamations in favor of African dictators and against Israel, but he has been decidedly subdued since. Accordingly, today, both Mr. Towns and Mr. Barron brushed aside some of the more controversial remarks he's made.
"I don't think that that's an issue," Mr. Towns said when a reporter asked if he'd have a hard time justifying his support for Mr. Barron to his Jewish supporters, some of whom have already blasted the move. "I'm looking at the district I represented for 30 years and I'm leaving it and I want to be in good hands, and that's the reason I'm doing this."
Mr. Towns also dismissed some of the criticism Mr. Barron made against his record, such as when Mr. Barron labeled the incumbent a "disaster."
"That was some time ago, it wasn't last week. What happened six months ago — a year ago — it's not even important!" Mr. Towns told us as he was walking out of the press conference. "Him and I have had a lot of discussions and he's committed to the things I'm committed to, and I'm happy and excited about it. And you will be invited to the victory party."