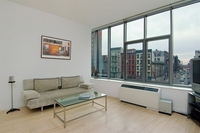 Edward Skyler never hesitated to jettison a good opportunity for a better one. After rapidly rising through the ranks of the Bloomberg administration to become the city's youngest Deputy Mayor, Mr. Skyler did not hang on to the hard-won post, but, rather, jumped at the chance to become an executive vice president for global public affairs at Citigroup in New York.
Thus, it should surprise no one to learn that Mr. Skyler has swapped his one-bedroom SoHo condo for a sleeker two-bedroom pad just down the block.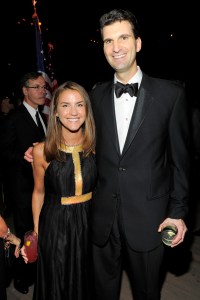 Mr. Skyler offloaded a well-lit (a gently-curved wall of 8-foot windows) but small (768 square feet) condo on the third floor of 210 Lafayette Street. Dubbed "Mr. Bloomberg's pitbull press secretary" by the New York Daily News during his earlier days as the mouthpiece of the administration (he is said to have thrown a napkin in the face of a reporter who asked about Mr. Bloomberg's vacation plans), it should come as no surprise that Mr. Skyler gave only a courtesy budge on the $1.25 million ask. He yielded to buyer Jamie Kreindler for$1.24 million, according to city property records, making a modest profit on the $941,000 he paid in 2005.
Ms. Kreindler, who may be the wardrobe assistant and native New Yorker who had a brief fling with Kanye West last year, or just a woman who shares her name, will get a spa-like bath and a kitchen with a Sub-Zero fridge—nice, relaxing features to come home to after a long day running multiple city departments or watching your ex parade around town with Kim Kardashian. The condo was listed with Corcoran brokers Nick Gavin and Michael Sarg and spent just under a month on the market.
Mr. Skyler traded up for a $2.4 million for a condo on the eighth floor of 225 Lafayette Street—a sun-drenched loft in the recently-converted 1924 Beaux Arts former Bank Building with oversize tilt and turn picture windows. And although the sale hit the records just now, it looks like it went through a little more than a year ago. The property, for sale by owners Michael Mufson and Michal Fromer, was on the market for just two months at $2.45 million.
But the new apartment, although perhaps paid for with a salary more lavish than that of a city employee, is not all about money. In fact, we suspect it had quite a bit to do with love. Just a few weeks ago Mr. Skyler married Jennifer Yuille, the head of consumer communications at Facebook in New York.
We're sure that the wedding was announced with the most exquisitely concise, carefully worded invitations.
kvelsey@observer.com