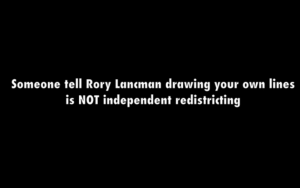 Assembly Members Grace Meng and Rory Lancman, both candidates for an open congressional seat in northeastern Queens, have been taking shots at one another on issues ranging from Social Security to The New York Times endorsement, but the third main candidate in the race, Councilwoman Elizabeth Crowley, has largely been keeping her head down. That changed this morning when her campaign released a video accusing Mr. Lancman of being hypocritical on the issue of independent redistricting.
"Assemblyman Lancman is very eager to attack his opponents, but seems to have forgotten to mind his own backyard," a high ranking official in Ms. Crowley's campaign declared. "If he tells a crowd of voters that he supports independent redistricting and always has, but told NY1 four months ago that he had a hand in drawing his own lines, it is a case of pandering at best and lying at worst."
"Will the real Rory Lancman please stand up?" he further asked.
Mr. Lancman was among those former Mayor Ed Koch declared a "Hero of Reform" for supporting independent redistricting reform but ultimately voted for a gerrymandered map that came with a watered-down reform package for future decades' redistricting processes. However, Mr. Koch, who held a rally for Mr. Lancman yesterday, has said  he would not use that vote against lawmakers.
Ms. Meng also voted for the redistricting deal while Ms. Crowley, as a member of an entirely different legislative body, obviously could not vote one way or the other.
The increasing back-and-forth is understandable as the June 26th election is in its home stretch and the candidate are debating tonight on Inside City Hall, where this issue may come up.
Watch Ms. Crowley's campaign video taking Mr. Lancman to task below:
[vimeo 44214357 w=500 h=281]
Will the Real Rory Lancman Please Stand Up? from Elizabeth Crowley for Congress on Vimeo.