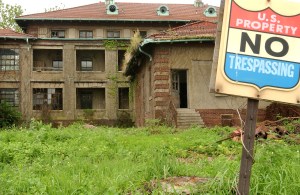 Plants and animals aren't the only things that are endangered—buildings are, too! Or so says the National Trust for Historic Preservation.
And although the number of endangered historic buildings is nowhere close to the whopping 2,000 endangered plant and animal species, endangered anything is never a good thing, which is why the Trust releases a list of the top 11 endangered historic buildings each year.
Since the annual list was started 25 years ago, only seven New York sites and buildings have been classified as endangered—thanks to the city's Landmarks Law, in part—though that seventh was just added this year.They are: Brooklyn's industrial waterfront, the Hudson River Valley, John Coltrane's Huntington ranch house, the Peach Bridge Neighborhood in Buffalo, certain turn-of-the-century buildings in Harlem, the Lower East Side, and this year's addition, the Ellis Island Hospital Complex.
But this isn't the first time that the Ellis Island Hospital Complex has made it on the list: in 1992, the complex and its surrounding buildings were crumbling and falling apart. The listing caught the attention of the National Park Service which then stepped in to stabilize the buildings. But now the complex faces another threat: lack of funding.
Today, the buildings, which have been off-limits to visitors since the 1950s, are unused, empty, and no doubt teeming with the ghosts of former quarantine patients. And while the Observer certainly has no interest in visiting these creepy digs—described on the National Trust for Historic Preservation's website as having a "haunting beauty"—some people are.  "Preservation experts and historians feel strongly that they must be protected and opened to the public," the website says.  
So what needs to happen this time to get these historical buildings off the endangered list? Funding.
The goal, the website says, is to rehabilitate and refurbish the buildings so that they can be opened for public visitation. And by "refurbish," we hope they mean Ouija Boards are provided.
http://observer.com/2012/06/the-war-on-landmarks-moves-to-defcon-2-big-real-estate-forming-big-coalition-to-challenge-preservation/