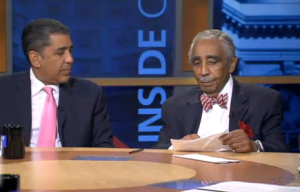 "My campaign is not circulating petitions for any other office, I'm running to win on June 26th and that's the end of it," State Senator Adriano Espaillat said in response to the first question on Inside City Hall last night, inquiring whether he is trying to get onto the ballot to run for reelection while waging a congressional campaign. "I have not instructed anybody nor have I authorized anybody to circulate petitions for any office whatsoever."
"I'm advising people not to sign any petitions with my name on it," he added when the host, Errol Louis, pressed him on it, causing Mr. Louis to label his answer as "very clear."
However, that was by far not the last time viewers of the debate heard of the charge, as Mr. Espaillat is seeking to unseat veteran Congressman Charlie Rangel, who continuously brought it up in subsequent questions.
"Your question to the Senator is very, very important," Mr. Rangel told Mr. Louis after answering an unrelated second question in the debate. "For me to think that someone would have a petition out there for me unauthorized, I would be outraged and I would take it to the District Attorney's office. Anything short of that — and I respect the integrity of the Senator — means that there are outlaws out there violating the law."
Mr. Rangel even pulled out a copy of the petitions (he later pulled them out again) with Mr. Espaillat's name on them to further prove his point.
"I'm glad that the congressman brought [up] the issue of ethics," Mr. Espaillat responded, answering an unrelated third question of the debate. "Because in fact, back in 2010, the congressman gave the Tea Party Republicans an early Christmas gift when he was censured."
"As a result of that, we lost 60 Democratic seats in Congress," he rather exaggeratedly added.
And yes, the fourth and fifth questions also involved rehashing this same back-and-forth between the two.
Meanwhile, another one of Mr. Rangel's challengers, former DNC political director Clyde Williams, sent out a statement reacting to this repeated exchange dismissing both candidates, declaring, "While my opponents waste time questioning each others' ethics, I question their priorities."
"The exchange about ethics between Mr. Rangel and Mr. Espaillat illustrates how they are wedded to the broken politics of Albany and Washington," he posited. "We need new ideas to build a better future, not bitter and stale partisanship that's a roadblock to progress for the people we seek to serve."