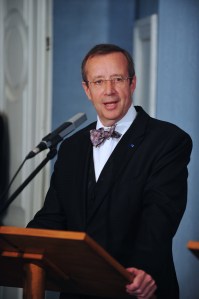 Yesterday evening, Estonian President Toomas Hendrik Ilves made a series of angry posts on Twitter taking issue with a blog post written by the New York Times' Paul Krugman criticizing Estonia's economic performance. Many who saw the Twitter spat doubted the account actually belonged to Mr. Ilves, but The Politicker reached out to the Estonian government and received confirmation and a statement from the man himself.
"Yes I send my own tweets," Mr. Ilves said. "It was a sincere and immediate defense of the major and often difficult efforts of Estonia to deal with the economic crisis and to stick to the rules adopted in the European Union."
Estonia has a budget surplus despite coping with the European Union's austerity measures that have been unpopular in other Eurozone countries. Mr. Krugman's blog post argued Estonia shouldn't be seen as an austerity success story because Estonia's GDP dropped significantly in 2008 before climbing about halfway back to previous levels starting in 2009.
"Since Estonia has suddenly become the poster child for austerity defenders — they're on the euro and they're booming! — I thought it might be useful to have a picture of what we're talking about," Mr. Krugman wrote. "So, a terrible — Depression-level — slump, followed by a significant but still incomplete recovery. Better than no recovery at all, obviously — but this is what passes for economic triumph?"
Mr. Ilves responded with eight Tweets yesterday calling Mr. Krugman uninformed, "smug, overbearing & patronizing."
"Guess a Nobel in trade means you can pontificate on fiscal matters & declare my country a 'wasteland'. Must be a Princeton vs Columbia thing," Mr. Ilves wrote referring to his alma mater and Mr. Krugman's professorial affiliation. "But yes, what do we know? We're just dumb & silly East Europeans. Unenlightened. Someday we too will understand. Nostra culpa."
As of this writing, Mr. Krugman hasn't posted a response to Mr. Ilves on his blog. He also has yet to respond to our request for comment on this story.
Update (9:23 A.M.): This post was updated to correct Mr. Krugman's relationship with Princeton.