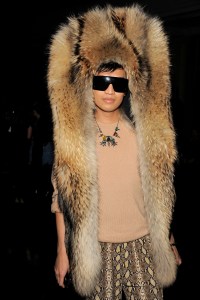 Yesterday, the New York Observer was spending the day hanging out in a high school in Newburgh, New York, as we are sometimes wont to do. Actually, we were watching People's Revolution maven Kelly Cutrone give ten high school seniors their dream gowns and accessories in a collaboration with Nine West called "Prom Crashers."
In between takes (for this was to be a web series special, and you know what they say: there's no such thing as a free prom, because tickets are $65 and due in homeroom by next Monday), Ms. Cutrone spilled some gossip about the upcoming cycle of America's Next Top Model.
First of all, screw all that "no contract" noise, because BryanBoy (Bryan Grey-Yambao) is definitely going to be on the show, Ms. Cutrone told The Observer.
"He's great," Ms. Cutrone gushed about her new co-star, who has come to fill the gap left by J. Alexander, Jay Manuel and Nigel Barker's departure. "He cares so much about the contestants, he cries whenever someone is booted off."
She quickly corrected herself. "He's not sobbing or anything. It's not like he spends the whole show crying. He just tears up when they have to go."
Sniffles or no, we're still waiting to hear in what capacity Tyra Banks will be using the fashion blogger. We're guessing he'll be a judge for the season, while the other two new faces—model Rob Evans and celebrity stylist Johnny Wujek—will function more in the mentor/adviser capacity to the latest crop of hormonal waifs.