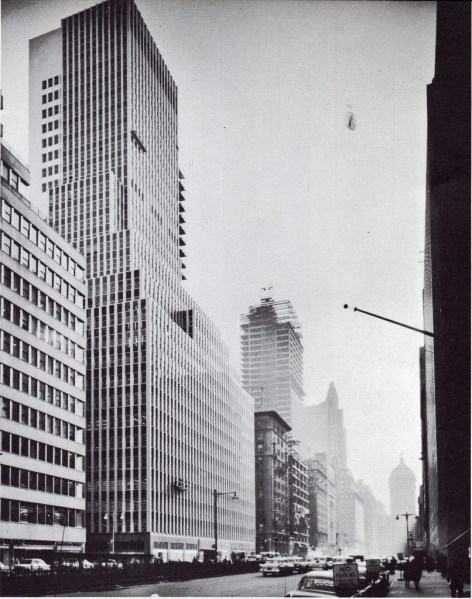 One need look no further than 425 Park Avenue for proof of the problems with Midtown's current zoning. One of those bland mid-century grandees, all flat glass planes, it was completed in 1958 and spans an entire block on Park. David Levinson, a partner at L&L Holdings, would tear down the 32-story behemoth if he could and replace it with something better. He is in the rare position of owning a building that will be empty of tenants coming 2015—normally a bad thing, were L&L not set on ridding itself of the low ceilings and column-choked spaces that fill the space.
"It's an entire block-front on Park Avenue, and that opportunity hasn't existed in my lifetime," Mr. Levinson said with relish.
But he is confronted with the challenge of the zoning having changed three years after his tower was built, and were he to replace it, he would be left with a much smaller building. It is a problem faced by landlords all across Midtown East.
His clever real estate attorneys have determined that he could demolish all but the bottom quarter of the building and build up from there, getting as close to a new building as one could hope for. He has convened a private competition between 10 of the world's top architects to solve this vexing problem.
Naturally, his fingers are also crossed that the city might solve this problem for him. "The zoning does not make this easy, but that's the way it is, and we're going to comply with that," Mr Levinson said, "unless something changes."
It might, and it might not. According to city planning sources, the proposal could get downsized to include only the immediate blocks surrounding Grand Central. There are almost 2 million square feet in development rights that once belonged to the Penn Central Railroad, currently owned by a little-known firm called Argent Ventures.
The city would add to that pot by a few million square feet, selling off the extra air rights, which would go to fund improvements to the surrounding streets and the spaces within Grand Central, particularly the local, and long-neglected, subway stations. This would benefit but a few developers owning surrounding properties. City Hall denied it has shrunk its scheme, but also admitted that it has yet to finalize the boundaries.
The administration is stuck between what it wants to build and what it has time to build. With thousands of constituents in Midtown, many with money to make and lose, it would be difficult to realize a sweeping plan within the next 18 months—public review alone takes seven. "I'm not even sure if there is unanimity at City Hall on what to do," as one top land-use attorney put it. "I hope they can move quickly and not settle for the lowest common denominator."
Even those critical or wary of the plan want to see it succeed, they just want to see it done right. The Municipal Art Society has long been a champion of Grand Central Terminal, helping to save it decades ago with Jacklyn Kennedy Onassis, and they have taken a keen interest in this project as well. Vin Cipolla, the group's president, hopes the mayor will take time in coming up with a plan, while realizing that if the administration puts it off, the next one might not take it up, either.
"Any plan for this area needs to be carefully balanced and worthy of Grand Central, the Chrysler Building and the Seagrams building," Mr. Cipolla said. "It's a part of the city where the bar has to be very high."
And so do the buildings.