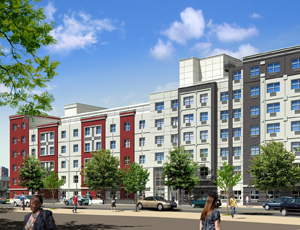 "We've been doing it the same way since before we had email," affordable housing developer Martin Dunn lamented, speaking to The Observer about the grueling process through which New Yorkers have historically had to apply for subsidized housing in the city.
Council Speaker Christine Quinn put it even more starkly in her 2011 State of the City address, when she called on the Bloomberg administration to find a way to digitize and streamline the process: "In a 21st century world—where you can do everything online—we still make people apply for housing using 18th century technology."
Today is the day, as they say, and as of working hours, NYC Housing Connect should be live, the first one-stop shop for subsidized housing online.
"This lets our customers do four important things: learn, look, save and apply," Department of Housing Preservation and Development Commissioner Matthew Wambua said. "This is an initiative we're incredibly proud of because we believe it will streamline the process for everyone."
Historically, applicants for affordable housing had to reach out to each individual developer about any developments they were interested in applying to, then fill out a separate application for each. Not only does the new website centralize the projects, as well as information about who is eligible for affordable housing in the city, but it also it also simplifies the application process.
What makes the new system so special is it allows users to create a profile that they can use for each and every application, so there is no need to continually fill out the same forms over and over again. The system even saves user profiles for easy updating. Should an applicants income go up or down or an address change, he or she simply needs to input it the criteria will be updated for future project.
This automation also helps with the various calculations required of applicants, one of the areas where the department said it saw the most errors. The other big advantage for applicants is that the system will allow them to immediately be notified when their applications is received and its status. "Sometimes we're flooded with 15,000 or 20,000 applicants for a particular project, so it can be just impossible to respond to everyone by hand, but this way we can," Kaye Matheny, the Deputy Commissioner for Strategic Planning, Technology and Administration said.
For developers it means more, and more accurate, applications. "For a lottery by hand, on the bigger projects, we can have 20 people doing it by hand over three or four days," said Mr. Dunn, who is one of two developers taking part in the pilot phase of Housing Connect. His Dunn Development Corp. is launching Westwind Houses, located at 45 East 131st Street, through the program, making the 47 low-income-restricted units available both online and in print.
The other project is Richmond Place, a 117-unit project in the Richmond Hill Section of Queens, developed by the Arker Companies, a third-generation developer of affordable housing. "Any time you can rent up quicker, it's to everyone's benefit," Dan Moritz, a principal at Arker, said. "A larger pool of applicants and a faster turnaround is a win-win for us and the city."
The department stressed that paper applications will still be accepted, to ensure no one feels alienated by the new process, but partnerships will also be forged with various community groups to ensure as many individuals as possible who want to can apply online. The pilot will run through the fall, at which point the department will begin to add more developments to the site, assuming all goes well.
"I think anything that makes it easier for the public to get access to information about housing resources is always a good thing," said Jerilyn Perine, chair of the Citizens Housing and Planning Commission and a former housing commissioner. "As long as they have the traditional applications, this should be to the benefit of everybody."
Ms. Perine even thought of one group of New Yorkers who might take a keener interest in such properties. "Will the hipsters move in, now that it's online?" she wondered. "Well, they're legally entitled, if they fit the criteria, but so is everyone else, and that's the wonderful thing about subsidized housing. I don't know that it will change anything about the make up affordable housing, except to make it easier for everyone to apply."