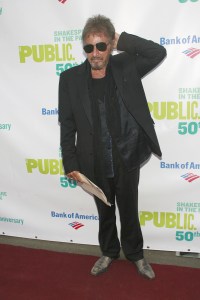 "We have a Shakespearean, Elizabethean temper," Al Pacino informed a seated crowd Monday evening in Central Park. As part of its 50th Anniversary Gala, the Public Theater was honoring Mr. Pacino with an award, in the form of a prop rapier he had once wielded on stage, "I'm a little nervous," he laughed. "I wish I had water, but I have a sword,"
While the audience of hundreds listened to Mr. Pacino with rapt attention, a secondary scrum gathered across the fence. What appeared to be backup pitchers on a hapless softball team abandoned their game to listen to the famed thespian. Soon, a quintessentially New York amalgam of dog-walkers, skateboarders and bright-eyed Broadway hopefuls paused their iPods, essaying to hear Mr. Pacino over the Central Park din.
Earlier, as guests arrived, many seemed to materialize suddenly from the Where's Waldo-esque ether of the park. From the throngs of sunglassed and unknowing denizens, Julianna Margulies and husband Keith Lieberthal appeared, followed by Chelsea Clinton and Mac Mezvinsky, Kathleen Turner, Julia Stiles and Lily Rabe.
The red carpet, positioned on the West side of the theater, was situated atop a blind hill. With clipboard in hand, one unlucky PR staffer was tasked with running up and down the escarpment, alerting her superiors when the VIPS arrived—the Public's own Paul Revere. (Listen, dear readers, and you will hear, her stage-whispering celebrity arrivals from far and near!)
Returning to the Delacorte theater was a sort of homecoming for Ms. Rabe, who acted alongside Mr. Pacino last year in The Merchant of Venice. "Working with Al Pacino was one of the great privileges of my life," she told The Observer. "He's a wonderful human being, and being able to spend a year of my life, a very complicated year of my life, with him through all of that was something that I'm very grateful for."
She insisted she wasn't nervous when she first met the actor, however, and made no special preparations for the occasion. "I didn't do anything. I probably, I don't know, I rolled out of bed and took a shower," she laughed. (Such élan!) While meeting her idols does not make her ill at ease, other things certainly do: "You know, snakes. Snakes not for me. People, more for me."
As Ms. Rabe headed toward dinner, Steve Martin appeared wearing a fedora. He rushed towards his seat, and declined to be interviewed, with an unconvincing half-apology. "But I like The Observer!" he called over his shoulder, "It's a great paper!" God bless you Mr. Martin! Don't worry, we'll talk next time.
Bob Balaban, however, proved perfectly chatty when asked which of the Bard's characters he most identifies with. "Easily Caliban, because no other Shakespearean character is almost my name. It's the only one!" he exclaimed gaily. "What could it be, Richard III? No. That doesn't sound like Balaban." The actor went on to describe his busy summer, which includes a book tour for his upcoming title The Creature from the Seventh Grade. "Its completely autobiographical," he said. "But in this case the boy turns into an eight and a half foot reptile, which I didn't do." Describing himself as "shortest, skinniest, most-incompetent boy in his class," Mr. Balaban professed that he has "fabulously good and fabulously horrifying memories of the seventh grade."
At dinner on the Delacorte's northeasterly lawn, guests toasted the Public's half-century of free plays. White lanterns bobbled in the slight breeze as Christine Quinn saluted the organization.
As the main course was being served, Tony Kushner shared his favorite Shakespearean play. "For various reasons, Midsummer, because I think its about theater itself. So it seems like to me it's sort of at the center of things." Sadly, we didn't have the opportunity to press him further, as we were overwhelmed by hundreds of passing chicken breasts.
After the meal, the crowds sought their seats for the evening's reading of Romeo and Juliet. Attempting to avoid the clogged corridors, full of chatting and meandering guests, many attendees hoofed it across the lawn, only to find they had to mount a thigh-high fence to access the stage. Revelers young and old, spry and not so spry, heaved legs over the railing in an show of theatric acrobatics. Several sets of unmentionables were unwittingly flashed.
Before finding our seat, we ran into Cynthia Nixon, whose fire-red hair is growing back after her stint as a cancer-stricken professor in the Broadway show Wit. The actress, however, doesn't know if she will keep her tresses short. "People keep asking me that. I'm getting a lot of positive reinforcement about the length," she said, pulling at the still downy strands.
Inside the theater, guests rose for a standing ovation as the cast took the stage. Meryl Streep larked a lighthearted vision of Juliet, while Kevin Kline read opposite, as Romeo. Christopher Walken earned the most laughs as a sometimes Queens-inflected Mercutio, and Christine Baranski appeared as the nurse. Throughout the reading, flashing, fluorescent underbellies of passing planes reminded viewers they were sitting beneath the midsummer Manhattan sky.
After the performance, we found Ethan Hawke. Asked what he would ask Shakespeare if he had one question, Mr. Hawke thought for several moments, before offering a response. "What happens when we die?" he concluded. Genius or cheeky (or both), we have not yet decided. We'll give him the benefit of the doubt.
After the reading, guests returned to the Delacorte's front lawn, and enjoyed dancing, desserts and drinks. "Can I get champagne and wine? Is that bad?" one guest asked her friend guiltily.
The clock neared midnight. The softball team had long since packed its bats (after yet another loss, it seemed), and the Great Lawn was quiet once more. The party at the Delacorte continued, however. With glasses in hand guests danced into night, ill-chosen spike heels sinking into the new summer sod.

editorial@observer.com