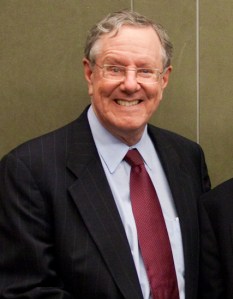 This morning, Wendy Long continued to roll out endorsements in her campaign for the Republican nomination to take on Senator Kirsten Gillibrand. First it was Grover Norquist, and now she added Steve Forbes to the list.
"Wendy would also support a stable dollar that doesn't swing wildly against gold," Mr. Forbes said in a somewhat wonky statement. "The last decade of dollar gyrations contributed to the bubbles of recent years and to our continued economic weakness. Wendy will push for a return to sound money and exchange rate stability."
"I urge all Republicans in New York to vote for Wendy in the June 26 primary," he added.
While neither Mr. Forbes nor Mr. Norquist is especially influential in the New York electorate, they both represent a certain nationalization of her endorsements as of late while she competes against Rep. Bob Turner and Nassau County Comptroller George Maragos in the Republican primary.
Mr. Turner's most notable recent endorsement was former Mayor Rudy Giuliani.