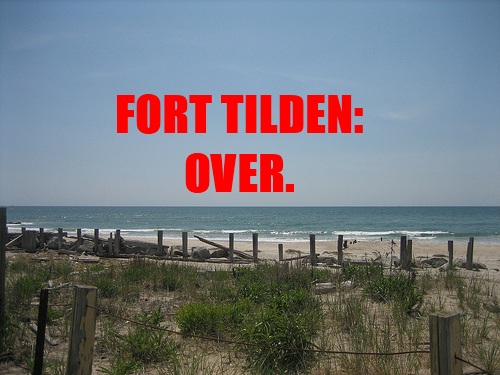 First, they came for Rockaway Beach.
They came with their trend pieces and gossip items and fashion trendspotting. And it was written:
The Manhattanites who read about it on Thrillist and Daily Candy will clamor for entry, eventually getting it, and everyone who preceded them will have already started to repeat the process somewhere else (in all likelihood, 5.9 miles down the road, at Fort Tilden).
And it was written again:
Either batten down the hatches, or take refuge somewhere still too remote for the Times' intrepid Styles Section. That place was once Fort Tilden, but it, too, shall be ruined in good time.
We spoke too soon.
Fort Tilden, meet your maker: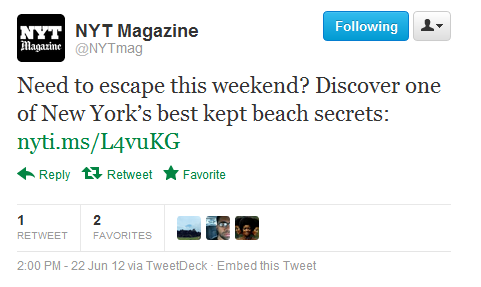 This Tweet even came with a photo essay, and some words:
Mariana Garay, her husband and their two sons (one of whom is in the sixth slide) have driven down to Fort Tilden from Williamsburg, Brooklyn, on summer weekends for the past three years.
Fort Tilden, which we thought wouldn't be part of the New York Trendsetter's Manifest Destiny Agenda for at least another year, we were sorry. We are wrong. After all, can something be a "secret" when the largest newspaper in the Western World is writing about it?
Of course not. Yet, it shouldn't go without mention that, as is the case with "_____ is a great secret," all of this "______ is OVER" business—even on our part—should be taken with a some degree of granulated salt.
Because, after all, there's nothing new under the sun, especially beaches. Especially at the New York Times:
Arts, November 9, 2001: Run by the National Park Service, Fort Tilden was a secret slice of paradise.
New York/Region, June 3, 2003: A free shuttle bus will take passengers around Riis Park, which has nearly a mile of ocean beach, or to Fort Tilden (just west of the park) or Floyd Bennett Field (across the Parkway Bridge).
Arts, July 21, 2006: Regulars at Fort Tilden smile to one another as if sharing a great little secret. And they are.
Arts, August 15, 2008: If that's not your idea of exotic, try Fort Tilden, a decommissioned military base in the Rockaways where huge concrete bunkers, old munitions sheds and defunct nuclear missile silos share space with the sand dunes.
City Room, August 4, 2010: But the back flip he turned Saturday afternoon on the sands of Ft. Tilden, a defunct military installation in the Rockaways in Queens, was different. 
Styles, June 15, 2011: Not long ago, the remote beach at Fort Tilden, a former military base along the peninsula's western side, hosted scattered picnickers, gay nudists and Russian fishermen reeling in spiny sea robins. Nowadays, the beachgoers are more likely to sport tattoo sleeves, Wayfarer sunglasses and Brooklyn ZIP codes, and fall between their mid-20s and mid-30s.
New York/Region, August 5, 2011: He, like many cyclists, is a fan of the area's remote Fort Tilden Beach.
[Hilariously, three of these entries are by the same reporter. Can you guess which three?]
Anyway, the point is: Newspapers recycle stories, and they'll recycle them with increasing frequency until they make these stories "happen," which, when it finally does, will eventually strip away at the unmolested nature of that which existed before its press coverage to the core—like leaving an unripened fruit in a brown bag, to the point where it gives at the oh-so-slightest touch, its way of communicating to you that in your quest to eagerly bring it ripeness for your selfish consumption, or need to fill a hole in the paper, you have ruined it—something it did not ask for and yet received, such is the nature of progress, unwelcome or otherwise.
Alternately, just get to Fort Tilden before they start shooting episodes of Girls there.
fkamer@observer.com | @weareyourfek