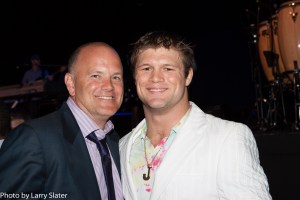 "Wrestlers are tenacious, hard-working, no-nonsense, tough SOBs," Fortress Investment Group principal Mike Novogratz told The Observer over the telephone last Monday. It was the beginning of a hectic week. In one corner, Spanish banks were teetering their way to a fresh round of European bailouts. In the other, looming Greek elections led headline writers to wonder whether the region's monetary union would survive the fallout.
"I just got off the phone with a central banker, and he asked me the same thing," Mr. Novogratz said. "There's going to be a lot of pressure and nervousness until the elections, but I don't think Europe will let Greece out of the euro. There are too many cross-holdings and it becomes a Lehman moment if they leave."
But he hadn't taken our call to talk about Europe. In three days, Mr. Novogratz would turn Times Square into the epicenter of American wrestling, staging an exhibition between the U.S. Olympic team and a group of Russian grapplers to raise money for the local youth wrestling program whose board he chairs. Mr. Novogratz was on the line to talk about how he happened to become one of the foremost boosters of the sport. Also, why do former wrestlers keep rising to the pinnacle of Wall Street?
"Wrestling develops toughness and confidence," Mr. Novogratz said. "It's not bravado, it's from working your butt off. The dieting that goes into making weight alone takes so much will. I thought, if we can put that into the inner city, it can be a cheap way to have a transformative effect on a lot of lives."
Mr. Novogratz grew up in Alexandria, Va., in a family of overachieving military brats. His father, Robert Sr., wrestled and played football at West Point and won the Knute Rockne Award for the nation's outstanding lineman in 1958. His sister Jacqueline graced the cover of Forbes in December for her venture capitalist's approach to solving third-world problems as the chief executive officer of Acumen Fund. One brother, John, was a Virginia high school wrestling champion and now heads global marketing for hedge fund Millennium Partners. "We were probably a little crazy," said another brother, Bob, who Bravo viewers will know as the star of the reality TV show 9 By Design.
Mike Novogratz didn't win a state wrestling championship; he was runner-up. He captained Princeton's wrestling team, then piloted army scout helicopters. In 1989, he joined Goldman Sachs as a money-markets salesman before moving to Hong Kong to run a trading desk. In 2002, Mr. Novogratz joined Fortress as the principal in charge of the firm's global macro funds, and when Fortress went public in 2007, Mr. Novogratz became a billionaire twice over. In 2006, he bought Robert De Niro's Tribeca duplex for $12.25 million, then bought the apartment downstairs to carve out a triplex.
Around the time Fortress went public, Mr. Novogratz took a call from a former U.S. Olympic team honcho who'd taken it into his head to build a wrestling program in New York City. The pitch: Space wasn't a concern—you could start a wrestling team with a mat and a coach. Would Mr. Novogratz supply the mats?