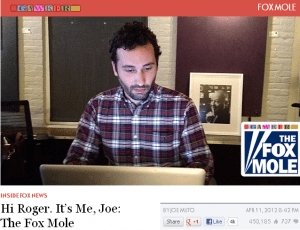 Former Fox Mole Joe Muto reappeared on Slate last week, writing about the verisimilitude of Aaron Sorkin's new HBO Series, The Newsroom.
"I spent almost eight years working in cable news before I decided earlier this year to exit the industry in  a quiet, dignified fashion, so naturally the show piqued my curiosity," he wrote. "Sorkin deserves credit for nailing a lot of the details of the milieu. But given how many of the little things he gets right, it's surprising that he gets a few of the big ones so wrong.
One thing Mr. Sorkin gets right, according to Mr. Muto, is the "old guard news honcho," who likes to talk about how journalism worked "back-in-my-day." In the show, it's the bow-tied news division president, Charlie, played by Sam Waterston. At Fox News, that role is played by none other than president Roger Ailes.
"Fox News president Roger Ailes is known for regaling staff with stories about his TV past during speeches at company functions. I personally heard at least three retellings of the time he worked for The Mike Douglas Show and had to set up a functioning bowling alley in the studio with less than 24-hours notice."
According to Poynter, Mr. Muto is no longer working for Gawker, although the company will continue to support him legally in the criminal investigation over information he leaked to Gawker.