The Observer has learned that Tabber Benedict, one of the three men featured in this weeks' cover story on Gatsbabies, has something in common with Jay Gatsby that's a little less charming than his wardrobe and extravagant lifestyle.
Mr. Benedict, a 35-year-old attorney who runs his own fledgling law practice, is facing charges of aggravated vehicular assault, leaving the scene of the accident, and driving while intoxicated for the 2011 Fourth of July accident in which he is accused of hitting a bicyclist while driving a 2011 GMC Acadia on the Montauk Highway.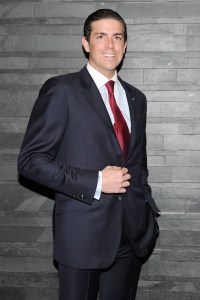 Mr. Benedict did not immediately respond to emails requesting comment.
On July 4th of last year, Southampton lifeguard and teacher Steve Dorn was biking on the Montauk Highway near East Quogue at 8 in the morning when he was hit by a black 2011 GMC Acadia being driven by Mr. Benedict, according to local prosecutors and published reports.
Mr. Benedict then hit another car and drove for two miles before being stopped by two motorists who witnessed the accident and used their vehicles to block him, prosecutors said.
Mr. Dorn, 44, was admitted to Brookhaven Memorial Hospital in critical condition at the time of the accident. He would eventually be released from the hospital.
Mr. Benedict eventually pleaded not guilty to felony charges of aggravated vehicular assault and leaving the scene of an accident. He also pleaded not guilty to charges of DWI, a misdemeanor, and reckless driving, a traffic violation.
He was released on $75,000 bail.
Calls and an email to Robert Clifford, a spokesman for the Suffolk County District Attorney's Office, were not immediately returned.
Mr. Benedict faces the risk of losing his NY State Bar license if convicted, said Mark Heller, his attorney.
"A reasonable resolution to this case is not a felony disposition, but a misdemeanor disposition," Mr. Heller told The Observer. 
He went on to clarify Mr. Benedict's recent involvement with local charities, including co-hosting the First Annual Post-Walk Celebration to Benefit Breast Cancer Victims.
"In my 43 years of practice, I have never met a more appropriate individual I've been called on to represent than Tabber Benedict," said Mr. Heller. "He is very, very contrite about what happened, he is very remorseful, he's been been remarkably sensitive and compassionate about the individual [Mr. Dorn] who was impacted by this unfortunate occurrence."
Mr. Benedict was among the three "Gatsbabies" featured in Wednesday's New York Observer story, in which the three preening prepsters —noted for their flamboyant attire and their emerging presence in social media and the New York social scene—lured "ladies, lucre and the limelight" in Manhattan.
Mr. Benedict, along with globetrotting "retired entrepreneur" Edward Scott Brady and Pretentious Pocket founder and social gadfly Justin Ross Lee, had all come to evoke (be it intentional or not) the grandiosity and mystery of F. Scott Fitzgerald's titular character from "The Great Gatsby."
[Read Meet the Gatsbabies.]
For Mr. Benedict, who grew up the child of a single mom in Upstate New York and worked his way through a college scholarship and law school, his background seemed as self-made and sedulous as Jay Gatz himself. His foppish, bespoke attire and slicked-back hair gave him an air of a Jazz Age gentleman (while casual gawkers wrote him off as a Scott Disick lookalike). Of course, Jay Gatsby owed his fortune to a bootlegging business while concocting a biography that disguised his modest origins.
Mr. Benedict has been a staple on the charity circuit in recent months, often appearing in Patrick McMullan party pictures, smiling as his left hand remained firmly in his pocket (his left arm is gammy, the result of a car accident he was in as a child).
It is not clear if Mr.Benedict faces any prison time if convicted.
drosen@observer.com